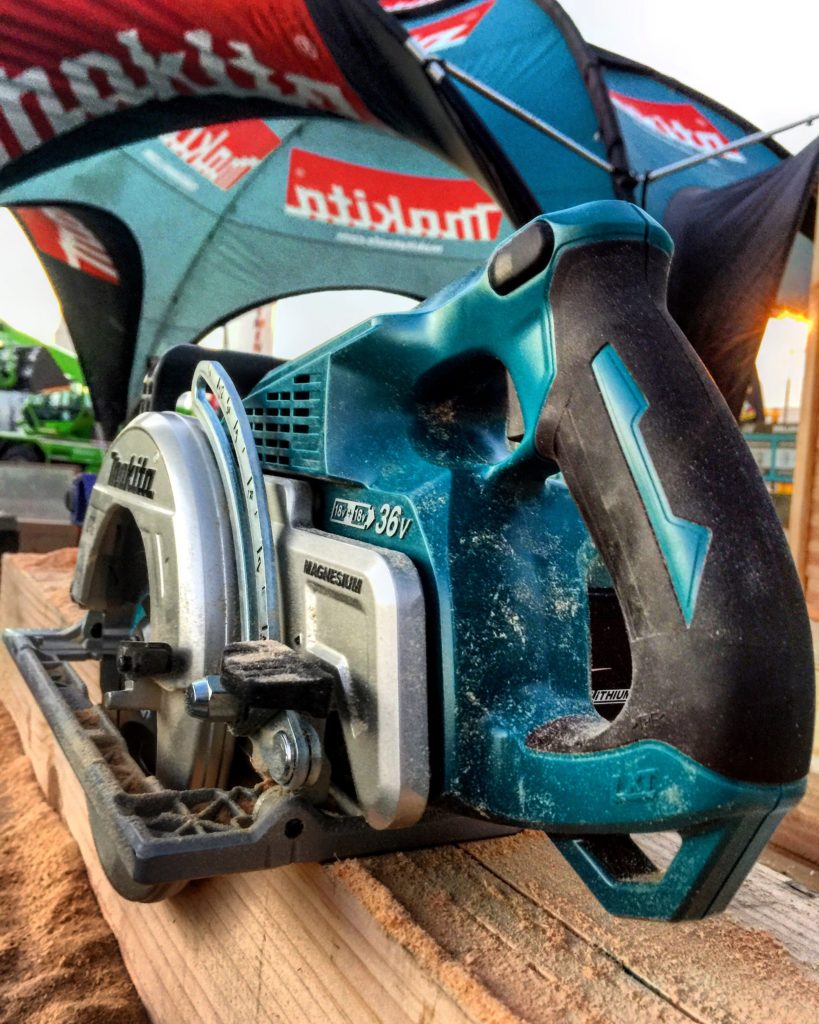 My earliest tool memories involve a Skilsaw worm drive. I was probably five or six. I will never forget how heavy that all metal beast felt when my dad told me to pick it up and bring it into the job he was doing that day. Back then I always used two hands to pick it up. I felt so big a couple of years later when I got to make my first cut. It was scary and amazing all at the same time. I still remember the torque kick when I pulled the trigger. It took me off guard but I was immediately in awe.
That monster was unstoppable. It was our everything saw. It was the only circular saw I used until I was about 18. Wood, metal, concrete, you name it. If dad could buy a blade for it we could cut it.
When you learn to use a certain tool at an early age you develop deeply ingrained muscle memory and hand-eye coordination. The worm drive saw just feels natural to me. I can make some fantastic cuts with a sidewinder Saw but no matter how much I use them they will always feel less natural to me. For most carpenters that grew up out west, the worm-drive is the weapon of choice.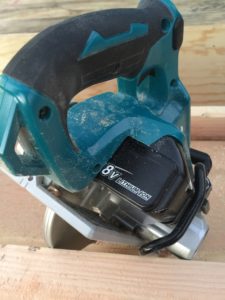 The first 9.6v and 12v cordless saws that came out were weak and for me, the blade was on the wrong side. The line of sight was completely blocked by the tool itself. I always felt they would be great but they never were.
Somewhere in the mid to late 90's companies started producing 18v saws with blade left configuration. I bought a 5 3/8' Dewalt and a Craftsman. Now we were finally getting somewhere. They could actually cut a 2×4 and I could see the cut line. My joy was short-lived, however. My guys and I stripped the gears out in multiple units.
My next round was the Milwaukee and Makita 6 1/2' 18v and the Porter Cable 19.2 v saw boss saws around 2000. All 3 were pretty good. We got many years out of all of them. They were not very fast but at least they could cut 2x even on a bevel. The blade left design was closer to what I wanted but not quite there yet. For the next 15 years or so not much changed other than the switch to lithium-ion batteries.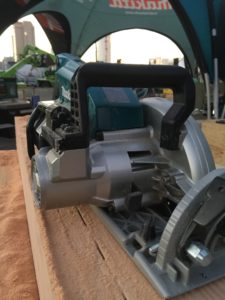 When brushless motors started getting popular we saw a huge increase in power with similar weight. Finally, we had power close to corded. We saw a huge increase in people actually using cordless saws all day long. We even saw many production framing crews make the switch to cordless. As long as they had multiple chargers they could stay running all day long.
I remember talking with friends in the tool community when these saws came out about how amazing it would be to have a cordless worm drive saw.
Makita was listening and they were the first to bring us a cordless answer to the worm drive. I must mention that this saw is not actually a worm drive or hypoid gear saw. It is a blade left helical geared saw with a rear handle. Is that a problem? It is actually an advantage. Why? Because a worm gear is very inefficient at transferring power. They can waste as much as 40% of your power or more. Although they are durable and can take an impact they would drain your battery much faster than a helical gear.
Our first look at the saw was at World of Concrete 2017 in Las Vegas. We were privileged to be invited to the media event release. I couldn't believe they asked me to be the first to use it on the Facebook live broadcast. I was so excited to make that first cut! I think I was almost as excited as I was as an 8-year-old when My dad let me use the worm drive for the first time.
As I grabbed the saw I couldn't help but notice how light it felt. I adjusted the depth as normal to cut the 2×10. As I pulled the trigger I was pleasantly surprised that there was no torque kick. When I started the cut, it was amazingly smooth! Smoother than any saw I had used before. It felt so easy to cut a straight line with. I couldn't help but think of a hot knife going through butter. It took all of 5 seconds for me to realize that this was to become my favorite circular saw of all time. After the cut, I wanted to cut again but I had to wait for others to have their turn with it.
When the Facebook live broadcast was finished we got some time to get to know the saw better. Makita had a whole truckload of lumber on hand for as much cutting as we wanted to do. There were 3×4's and 6×6's
The Makita was always able to cut completely through the 3×4 boards. The corded Skilsaw worm-drive saws were not. The Makita has, as far as I know, one of the deepest depth of cuts at 2 9/16″ of any 7 1/4″ Saw. (Tie with DeWalt Flexvolt blade right circular saw)
We then went on to power tests. We couldn't help but be impressed! It actually outperformed the corded Skilsaw worm drive saws. Some people thought the worm drive was more powerful because we could push it harder and it would keep turning. This turned out to be wrong. The Makita has protection circuitry. Because of this, it would shut off if pushed too hard. Interestingly if we pushed it slightly less it could outperform the worm drive saws. Because of having no protection built-in, the worm drive saws would start smoking after a few runs trying to keep up with the Makita rear handle saws.
How is this possible?
This rear handle saw is able to compete with the most powerful corded saws because of it's unique X2 battery system. By using two batteries from its 18 V LXT lineup Makita is able to produce incredible amounts of power in a cordless tool. Not only do the dual batteries give the power needed for those tougher cuts, they are also able to run longer as a pair than would be possible using one battery at a time. In our rip tests using this saw vs the 18 v brushless Saw we were able to cut far more than double the amount with this saw over the single battery brushless per change.
Another reason the power is so outstanding is the built-in power management. You don't always run your car at full throttle. It would waste fuel and wear it out much faster. Same with this saw. It's not always running at max power. If you are making a lighter cut like a 1×12 or 2×4 cross-cut the Saw sips batteries in the normal power mode. When you get into a heavy cut like a 2x rip the power management system shifts the saw to high torque mode. It is seamless and you don't even notice it happening. To let you know the Saw is getting a good workout there is a little green LED that lights up.
Back in the real world, we couldn't wait for the saw to come out. When it finally did it was pure joy to use on the job. All the power and torque were there. The balance was as perfect just like I remembered. The rafter hook is amazing. The depth and bevel adjustments are strong and easy to operate. The shoe is nice and stiff. The all-metal guard is easy to engage even on angle cuts.
One thing I really appreciate is the layout of the handle. It is very close to the centerline of the blade. It is almost a full inch closer than the new Dewalt rear handle saw. That coupled with the long length of the body makes it easier to cut a perfectly straight line with than any other saw I have used.
Two things I miss on this saw are an LED light and a dust port. I feel an LED would make those short winter days a bit easier to live with. a dust port would make demolition cleaner and would open up the possibility of using it with diamond blades for concrete products.
I can't say enough good things about this saw. It is truly a home run for Makita and we give it our highest recommendation. It is one of our favorite tools of all time and is definitely our top pick for full-size cordless saw.