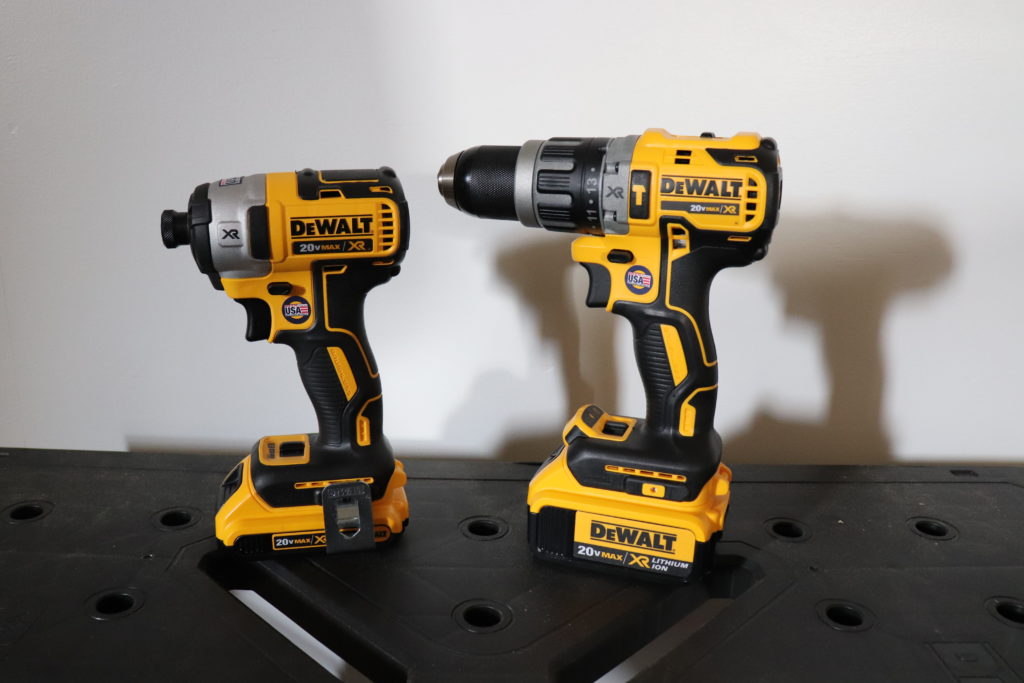 This is a very popular kit. I think it represents a great value. Team one of the most powerful brushless impact drivers on the market with one of the highest performance compact brushless drills and you have a winning team on your hands. Both the drill and impact have a Dewalt brushless motor which delivers up to 57% more run time over brushed. The DCF887 has 3-speed settings for versatility with Precision Drive for added control.
I used to run the predecessors to these tools. DCF 886 and DCF 895. They were good tools but Dewalt is never content to rest on its laurels. The 887 received a nice torque and speed increase over the outgoing models. Does that really matter? It does if you want to get more work done faster. One thing I don't miss is the flat face of the 895 and trigger finger bit release. The new one-handed chuck for bit insertion and release is much nicer. The new design which is much like the 886 is also nicer for getting into tight spots or odd angles.
DeWalt handles are some of the most comfortable to me. The 887 is no different. It may not matter to some but I use an impact driver more than almost any other tool. A comfortable handle can make a long day driving screws more bearable. The trigger is very comfortable and sensitive. The triple LED lighting is among the brightest to allow you to really see your work without a huge shadow. The hook has a 2 stage design. It has a wider area for thicker material and a deeper narrower spot for thinner materials like belts, and pockets.
​Today we expect top-of-the-line brushless impact drivers to have at least three-speed settings for a wider range of fasteners. The DeWalt DCF 887 has one of the easiest ways to switch between the various speed settings. It is a big old-fashioned slide switch rather then a button or pressure pad. I definitely prefer this over the buttons. The first speed setting is 0-1000 rpm. It develops 20 ft lbs of torque. It is called precision Drive for precise control with smaller fasteners. It is low enough you may not even notice it impacting at this level. Speed 2 is 0- 2,800. It provides 125 ft.lbs of torque. Speed three is 3,250 RPM and 152 ft.lbs.
I usually just leave my impact drivers on high all the time. I want to drive screws as quickly as possible and get on to the next. However It is nice to be able to dial the maximum torque down for smaller fasteners or delicate fastening tasks such as installing cabinet hardware.
One situation where it is nice to use a lower speed is when we are touching up drywall screws. Sometimes you don't get them set perfectly. I have to say it is nicer to use an impact on a lower speed to set them. You want to drive them slightly past perfectly flush. Full speed can bury the screw in half a second.
Another good place to consider power management is in building cabinet face frames. If you use pocket hole joinery, you probably know that it is possible to strip the pocket hole screws with too much speed and torque. I normally just grab a driver drill for this task but many still use an impact driver. The middle speed and torque setting make this much safer.
DCD796 has a high-speed transmission with 2-speed settings and the brightest light on the market.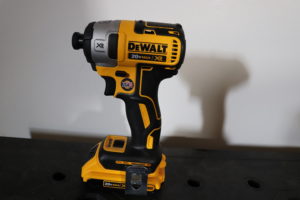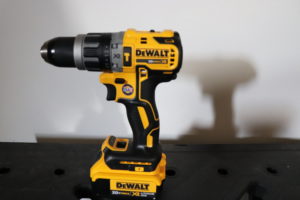 What about the DCD796 brushless 1/2″ hammer drill? It shares numbers with the top of the class. It runs at 0-550 and 0-2000 RPM with a max BPM of 34000 in hammer mode. As of this writing, it is probably the highest performing compact brushless drill on the market. If it is not number one it is very close. I bought one of the DCD791 driver drills last year and it easily out powers the brushless compacts from Milwaukee, Bosch and Ridgid. It's not all about power though. It has one of the best handles in the industry with great comfort and ergonomics to go along with that power. It also boasts the best light of any drill. The LED has 3 brightness settings. Normal, high with normal drilling and a special extra bright setting to use as a work light for up to 20 minutes. We really enjoy using these drills on the job. They are pretty much my top pick for a compact cordless so far.
I love that the kit has both sizes of battery. You may not always need full power. I usually run the 2.0 in the impact because it is so light. If I am driving screws all day I may throw the fat pack 4.0 on. It gives the tools a boost in power as well as run time. I have heard many say it doesn't matter and that it only adds runtime. I disagree. The tools run at 18 v. That is 5 cells times 3.6 volts (4V hot off the charger) times the peak amperage the cells can discharge. In the fat packs there are two rows of 5 cells putting out the same voltage but much more amperage if needed. You will see an increase in speed and torque from the larger battery at every point in the discharge cycle.
We really feel this is a great gateway to the DeWalt platform. Cordless drill and impact kits are truly useful for every trade and for DIY-ers as well. If you want a compact kit with premium features this very well could be for you.
I am receiving compensation in
the form of commission, for the
purpose of promoting tools. All
expressed opinions and experiences are my
own words. My post complies with the Word Of
Mouth Marketing Association (WOMMA) Ethics
Code and applicable Federal Trade Commission guidelines.