I'm going to share a little secret. I am a fan of Makita. I know it's a surprise. We aren't supposed to show any bias when reviewing tools but I fail sometimes. It's not that I chose a color and said it was the best ever and every other color is garbage. I actually spent many years opposed to buying Makita Tools. Although I had a good impression of Makita when I was a kid that impression was tarnished by the HVAC contractor I worked for when I left home. He bought a brand new reciprocating saw and broke the blade clamp off the shaft on the first day. Instead of exchanging it and giving Makita a chance he just kept telling me Makita was junk. That stuck with me for years. I would often overlook Makita tools when making buying decisions because of that experience.
That eventually got turned around. With each Makita tool I bought I saw more and more that my old boss was mistaken. That reciprocating saw was definitely a defect that slipped through the cracks. I feel it important to recognize that all companies have defects and lemons from time to time for whatever reason. I have also learned that some have more than others. In my 30 years of building and remodeling experience Makita seems to have fewer defective tools than many companies. It's also the vibe I get from talking to many repair technicians over the years.
I'm really glad I got over that negative mindset because if I hadn't I really would have missed out on some incredible tools over the years. My favorite tools are usually cordless and Makita is a clear market leader in many of the tools that matter most to me.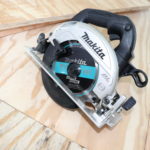 This Makita sub compact 6 ½" brushless saw is the newest one on the market and should just now be hitting stores. We get to use them a little while before they hit the market so we can let everyone who is interested know about them.
So far this little guy is a beast. Even though it is one of the smallest 18v saws out there it has full size power and features. Total length is only 10 5/8″. It has a magnesium upper blade guard and an aluminum foot plate to save weight so it weighs less than 6 1/2 lbs with a 2.0 battery. The 6 1/2′ blade will cut material up to 2 1/4″.
The LED light is well placed for those last few cuts we need to make when the sun is disappearing from our winter skies. With automatic speed change it sips batteries when making easier cuts but has gobs of power and extra torque when you need it. It blows through plywood 2x lumber and LVL with ease. Hardwoods are also a piece of cake. Even bevel cuts are good. The lower guard is well designed. It works smoothly with fewer hang ups than many saws. There is a provision for adding a rafter hook. It has 2 tapped holes in the upper blade guard so you can screw it in. I am definitely going to order one as soon as I can. A good hook really helps protect the saw from falls as well as keeping it handy between cuts.
A sweet bonus feature is the dust nozzle that was included. It makes the saw much more versatile. You can use it normally with or without the nozzle or you can hook it up to your vacuum or dust extractor to have great dust control. It's attached with a tab on the upper end and a machine screw on the lower end. It's seems to get the majority of the dust. This feature has been sorely lacking in circular saws sold in North America. They have been included with most brands sold in Europe and Australia for many years. We need the option of working dust free too. It may seem like a hassle at first but it can actually save time in the end because you don't have as much cleaning at the end of the job. It also helps protect our lungs from all the harmful things we cut.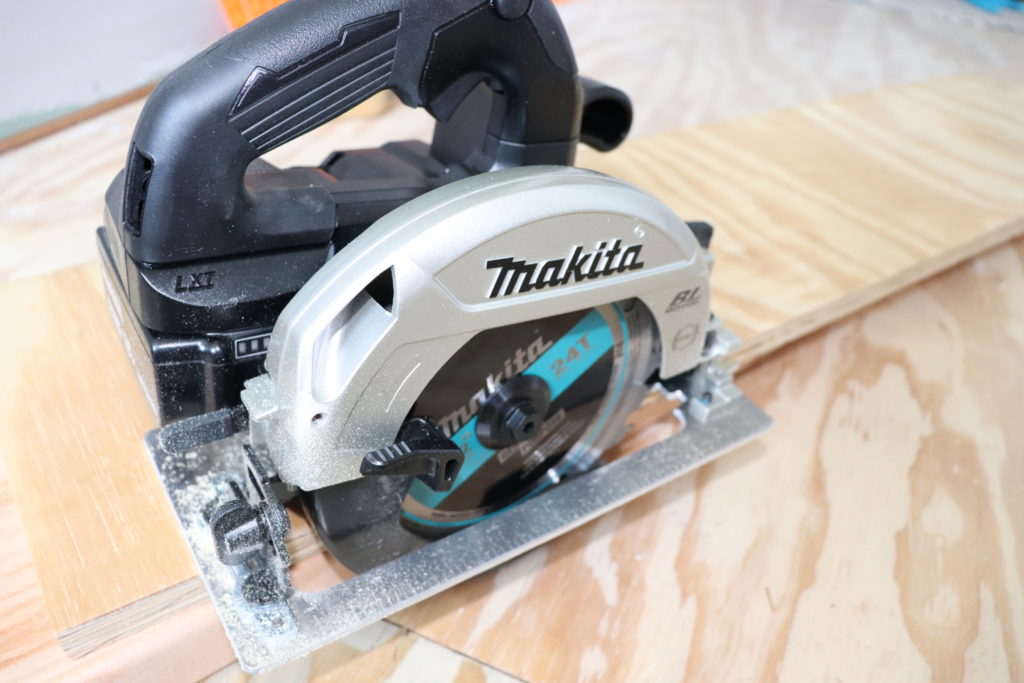 This saw is positioned below the XSH03 blade left saw so it does have a few cost saving parts. You will notice the lower blade guard is plastic. The footplate is not Magnesium. Rather it is stamped aluminum. I don't know if you will ever notice the difference in actual use. It could be an advantage if the saw is dropped. You can straighten aluminum easier than Magnesium.
The bevel adjustment is held tight on both ends of the plate. There is a longer lever on the front and a thumb screw on the back. It is easy to adjust to 45° consistently or if you need to get more adjustment there is a simple tab you can rotate out-of-the-way.
Even though it is a less expensive saw it seems to have the same motor as the XSH03. If it isn't they sure did an awesome job with the replacement. To me it sounds really close and it turns the blade at the same 5,000 RPM. At the time of this writing I do not have an XSH 03 to directly compare. My XSH03 stayed behind in Puerto Rico for other disaster relief workers to keep using and I haven't ordered a replacement yet. From memory this seems to be equal in power. It is certainly more powerful than any of the 18v brushed saws. I noticed it also seems more powerful than the Milwaukee Fuel brushless saw and is over a pound lighter in weight also.
For me, I personally prefer the XSH03 because it is blade left. When growing up in Arizona we used nothing but Skilsaw worm drive units. They are all blade left. I have a lot of experience with blade right saws like this one but I am always more comfortable with a blade left saw. Many of you are just the opposite and prefer a blade right saw. If that is you I highly recommend this saw. You won't find a more powerful, lighter or more compact 6 1/2″ saw anywhere .
Order yours at the
I acknowledge that The Home Depot is
partnering with me to participate in
the ProSpective 2018 Campaign. As a part of
the Program, I am receiving compensation in
the form of products and services, for the
purpose of promoting The Home Depot. All
expressed opinions and experiences are my
own words. My post complies with the Word Of
Mouth Marketing Association (WOMMA) Ethics
Code and applicable Federal Trade Commission