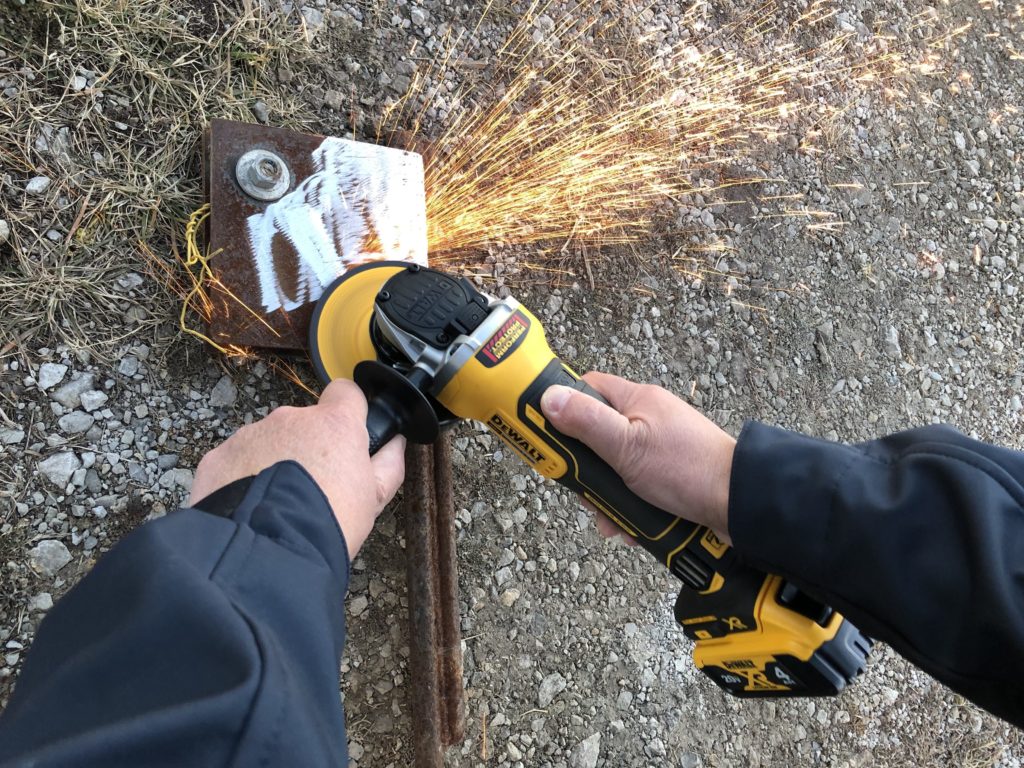 Brushless tools are all the rage these days. Some of us are now brushless tool snobs. Others of us don't care and just want a solid tool. I don't know about you but I generally like brushless tools. In some applications they do actually have more power and a lot more runtime.
On some tools you really aren't going to notice too big of a difference. On grinders it is a real improvement. In fact before brushless grinders Cordless grinders were basically only used for cutting with a slicer wheel and light duty grinding. They just didn't have enough power for heavy grinding.
Dewalt waited a few years to enter the brushless grinder market but last year they unveiled several brushless models and they are all top-notch. These new grinders were worth the wait. They have premium performance and fast brakes. Not to mention more power than the old brushed 20v max grinders. We experienced improved run time. Grinding is a high load application. That means it will drain your battery quickly. The more power and runtime you have the better. Fewer trips to the charger mean more productivity and money in your pocket.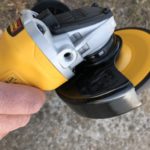 One thing I use a grinder for most is tile installation. This one is very nice for cutting tile with its longer paddle switch and comfortable grip. I use a thin mesh blade and it does a really nice job with the cuts. The motor is not only powerful but it is smooth for less vibration which can lead to chipping. It can also be paired with a dust collecting shroud and diamond cup wheel for floor prep and leveling before installation. It has ample power for this tough task.
Another use I have for grinders is for coping trim. They are indispensable for quickly removing material for tight-fitting joints. A good grinder with a pair of 36 or 24 grit sanding pads is faster than a coping saw. A heavy grit diamond blade also works well.
For this review we discovered whatever the task, the new Dewalt cordless brushless grinder is very comfortable to use. It is much more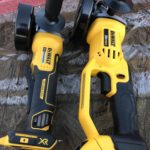 compact than the brushed model. The motor and handle are very slender. Gone is the old handle with knuckle guard that came on the old brushed unit. What you get on this new one is a traditional feel with even more comfort from the slimmer handle and rubber over mold. This is important because a fat motor like on the Flexvolt is not easy to grasp if you need more control. The 20v max grinder on the other hand has one of the most comfortable grips on the market.
It has a nice tool free blade retention. There is also a tool free guard adjustment for getting in those tight spots or for directing the sparks one way or another.
Grinders are one of the most dangerous tools out there. After table saws they are involved in more injuries than almost any other power tool. Sometimes cutting wheels get stuck and the motor keeps going causing an exploding wheel.
To prevent this DeWalt has included a 2 second electric brake. With a thin slicer wheel it can stop even faster. It also has an electronic clutch to protect you in case of a bind up. Bind ups happen most often when cutting. Sometimes the material will pinch the blade toward the end of the cut. Sometimes we as users lose focus and maybe let the grinder angle change a little. In either case the electronic clutch will shut the motor off to prevent a dangerous kickback or an exploding wheel. It's not magic but it does add good a layer of safety.
Of course you still want to wear your PPE. Safety glasses and earplugs at a minimum when using thick grinding wheels or diamond blades. Use a full face shield and a proper cutting shroud sold separately when using thin slicer wheels.
Whether you are a light or heavy user a brushless grinder like this will help you be more productive and work safer. Order yours at The HomeDepot.
Requires no time changing brushes and offers longer motor life

Brake stops the wheel when there is a pinch, stall or bind-up

Trigger requires 2 actions to activate tool for added protection
We paired it with the DEWALT 20-Volt MAX XR Lithium-Ion Premium Battery Pack 4.0Ah and Dual Port Charger with (2) USB Ports that gave us better power and I totally recommend the charger with USB ports.
Includes 20-Volt Max XR battery and dual-port 12/20-Volt charger
1-year free service contract included with purchase
Protected by a 3-year limited DEWALT warranty
I acknowledge that The Home Depot is
partnering with me to participate in
the ProSpective 2018 Campaign. As a part of
the Program, I am receiving compensation in
the form of products and services, for the
purpose of promoting The Home Depot. All
expressed opinions and experiences are my
own words. My post complies with the Word Of
Mouth Marketing Association (WOMMA) Ethics
Code and applicable Federal Trade Commission