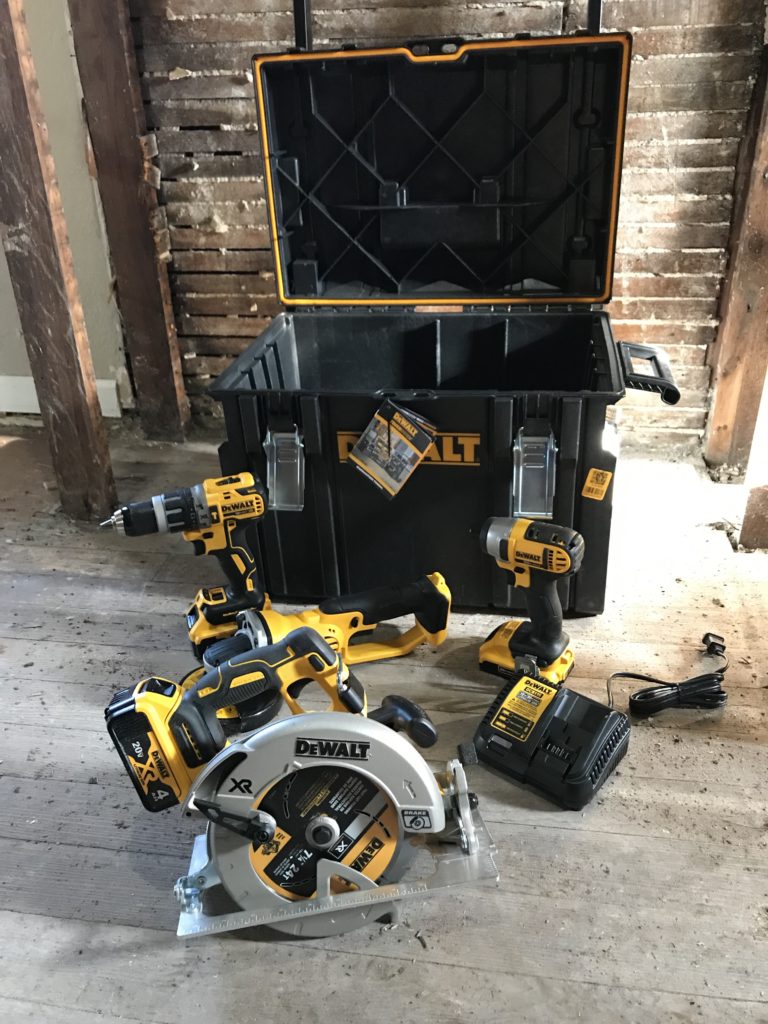 What a great Dewalt max combo kit for only $399.00 this kit combines a nice mix of top of the line brushless and brushed tools.
You will get:
DCD796

brushless hammer drill. DCF885 brushed impact driver. DCG412 5" brushed grinder and a DCS570 full size 7 1/4" brushless saw. All in a rolling Tough system box!

DCD796

is compact (7.5 in.) front to back and lightweight (3.6 lbs.), designed to fit into tight areas. high-speed transmission with 2-speed settings (0-550/0-2,000 RPM) delivers up to 30% faster application speeds Metal 1/2 in. ratcheting chuck for superior bit gripping strength

DCF885

impact driver offers 1-handed loading for its 1/4 in. hex chuck that accepts 1 in. bit tip. It features 3 LED lights with delay after trigger releases for visibility with limited shadows

DCG412

has an 8,000 rpm motor that provides high power for cutting and grinding applications. quick-change wheel allows for tool-free wheel changes without the need for a wrench.- tool-free guard allows for quick, easy guard adjustments/positioning

DCS570

uses a 7-1/4 in. blade to provide 2-9/16 in. cutting capacity at 90° bevel capacity up to 57 for increased versatility. Up to 100 cross cuts in 2 x 4 (pine)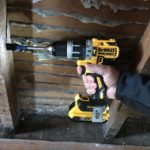 The heart of any combo kit is probably the drill. This one has the outstanding DCD796 brushless 1/2″ hammer drill. It stands at the top of the class. It runs at 0-550 and 0-2000 RPM with a max BPM of 34000 in hammer mode. As of this writing, it is one of the highest performing compact brushless drill on the market. If it is not number one it is very close.
We bought one of the DCD791 driver drills last year and it easily out powers the brushless compacts from Milwaukee, Bosch and Ridgid. It's not all about power though. DCD796 has one of the best handles in the industry with great comfort and ergonomics to go along with that power. It also boasts the best light of any drill. The LED has 3 brightness settings. Normal, high with normal drilling and a special extra bright setting to use as a work light for up to 20 minutes. We really enjoy using these drills on the job. They are pretty much one of my top picks for a compact cordless so far.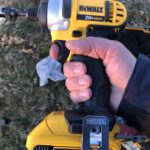 The next most important tool in the kit for me is the impact driver. I thought it was curious that this impact was brushed while the drill was brushless. This is a no frills impact driver. Even though it is brushed it has great performance and power. Well equipped with a 3 LED light array on the front for the best possible view of your work.
It is compact and lightweight and offers a one-handed chuck and spins at 0-2800 RPM's. It is single speed variable speed. The handle is very slim and ergonomic with just the right amount of over-mold grip. It has the same great feel and balance of the top of the line brushless drivers. About the only difference I am seeing between this one and the brushless is I can smell the brushes while driving screws.
0-2800 RPM
Max Torque 1400 in-lbs
2.8 pounds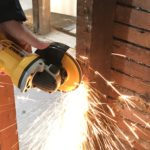 Here you have a 4 1/2″ grinder with 8000 RPM. It has a quick change arbor nut and a tool free blade guard. I find it is actually pretty powerful for a brushed grinder. I can push harder with this one than any other brushed cordless grinder I have used. The handle is very comfortable but the finger guard is awkward.
It makes a bigger tool compared to the cordless brushless grinders on the market. There is a two finger trigger with no way to lock the switch on but you can lock it off. It is a useful tool for any light duty cutting or grinding of metal, concrete, masonry or tile. We even use these cordless grinders for coping crown and other moldings.
8000 RPM
Spindle Lock
4 pounds
Last but not least is the first full size 20v max 7 1/4" circular saw I have seen from DeWalt.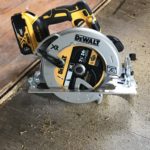 It is a dead ringer for the previously released Flexvolt 60v max saw. It has the same feel and just slightly lower RPM for excellent performance. At 2 9/16″ the DCS570 boasts the highest cut depth for a cordless circular saw. There is a nice LED work light built-in for those times when you want to work past dark or you simply need more light to see what you are cutting.
The saw features a nicely made rafter hook. So you can keep it within easy reach between cuts. It also can save your saw from being dropped when working on scaffolding or a ladder. I feel like almost all tools need a hook. A nice rafter hook like the one on this saw is even better. The power is very respectable for a 20v tool. I didn't expect it to be this good. It can even get better if you add a 6.0 or larger battery. They can deliver even more current at the 18v it uses under load. Run time will also increase dramatically.
I would recommend adding at least one compact battery to use with this kit. You may not always need full power. I usually run the 2.0 in the impact and drill because it is so light. If I am driving screws all day I may throw the fat pack 4.0 on. This gives the tools a boost in power as well as run time. I have heard many say it doesn't matter and that it only adds runtime. I disagree. The tools run at 18 v. That is 5 cells times 3.6 volts (4V hot off the charger) times the peak amperage the cells can discharge. In the fat packs there are two rows of 5 cells putting out the same voltage but much more amperage if needed. In the Flexvolt batteries there are three rows of five cells.

You will see an increase in speed and torque from the larger battery at every point in the discharge cycle. That being said I still like having the compact 2.0 batteries.
All of this rides in style inside of a rolling tough system case. It has more than enough room for all of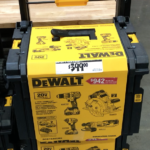 these tools and several more. It is stackable with other tough system cases and carries several on top with its improved latch design.
We really feel this is a great gateway to the DeWalt platform or an addition to your current DeWalt arsenal. Dewalt cordless combo kits are truly useful for every trade and for serious DIY-ers . With a premium brushless drill, a compact yet strong impact driver, circular saw and grinder, you have a great start for getting a lot of work done without the hassles of cords. If you want a cordless kit with premium features this very well could be for you.
The DCKTS450M2 20-Volt MAX Lithium-Ion 4-kit (4Ah) with a Tough System features our DCD796 20-Volt MAX XR Lithium-Ion Brushless Compact Hammer drill Kit which is lightweight and compact for working in tight spaces for long periods of time

The DCF885 20-Volt MAX Lithium-Ion 1/4 in. Impact Driver is compact and lightweight for fitting in tight spaces and increasing productivity

The DCS570 20-Volt MAX XR Circular Saw, features a Brushless motor which provides 5200RPM maintaining speed under load
When you pick up your set don't forget to check out the Bosch Daredevil Spade Bits 19PC BOSCH DAREDEVIL SPADE BIT SET
Up to 10x faster than conventional spade bits

Full thread tip grabs wood and pulls the bit through

Reduced bit jamming with contoured paddle design

Better hole entry with exclusive spur and reamer tips
I acknowledge that The Home Depot is
partnering with me to participate in
the ProSpective 2018 Campaign. As a part of
the Program, I am receiving compensation in
the form of products and services, for the
purpose of promoting The Home Depot. All
expressed opinions and experiences are my
own words. My post complies with the Word Of
Mouth Marketing Association (WOMMA) Ethics
Code and applicable Federal Trade Commission