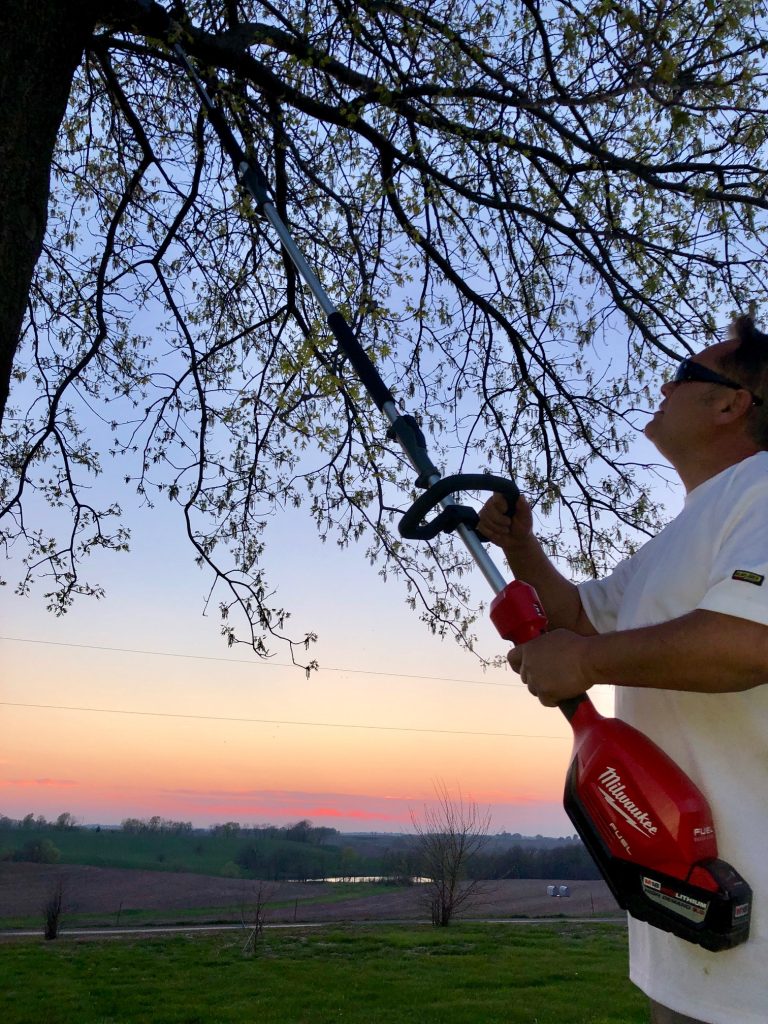 Milwaukee sent the Milwaukee M18 Fuel cordless Quik-lok string trimmer and a few attachments for review a couple of months ago. There hasn't been as much opportunity to use them as we would have liked. The weather has been cold and rainy with quite a bit of snow this winter and the grass has been brown and dormant.
The sun has been out a lot the last two weeks. We have had some real spring days and everything is turning green. As soon as possible we put the Quik-lok powerhead and attachments to work. This is what we found.
It's All In Your Head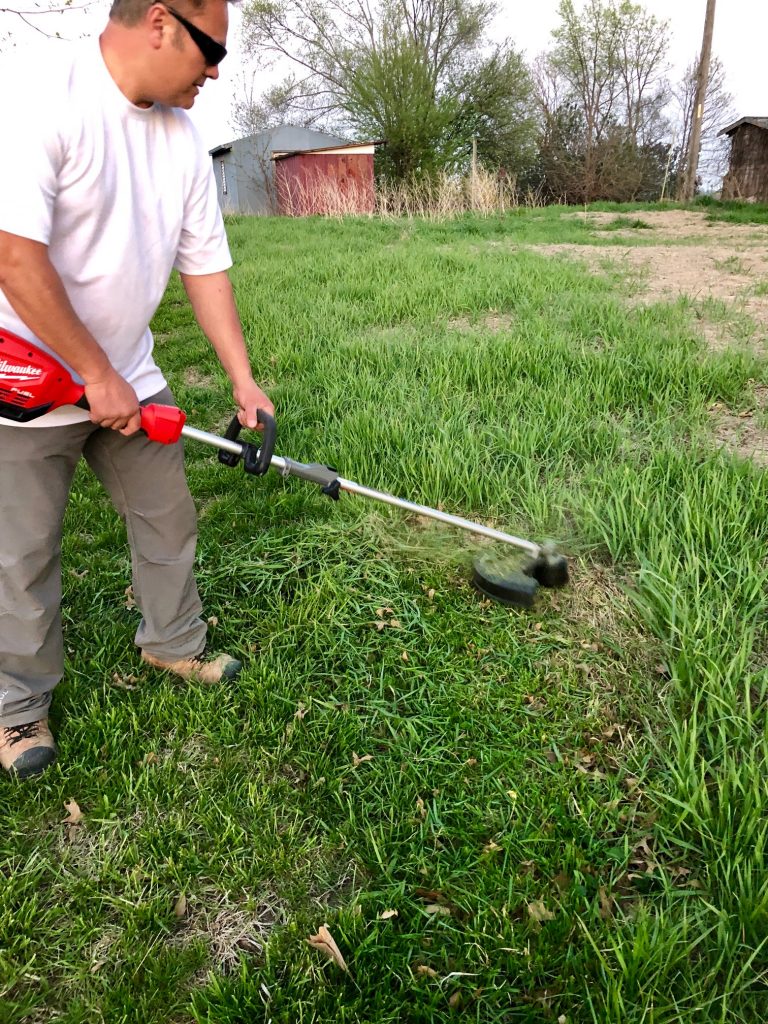 I will start with the Milwaukee M18 Fuel Quik-lok powerhead. I just love this concept! You can buy this unit and use the motor for many different applications. It can save you a lot of money while still providing very nice quality. Overall it is powerful, quiet, smooth, well made and very comfortable while being easy for anyone to use. I am very pleased with the design and build quality. The balance is perfect with a 9.0 or even the larger 12.0 battery.
The base unit includes a string trimmer attachment. This makes sense as trimmers are the most common piece of OPE after lawn mowers. I must say it is a mighty fine trimmer. It has a 15′ diameter cut with a nice sized guard. Feeding the line as it wears is easy and also features the easy load trimmer head. It can be loaded in about 30 seconds or less. The worst part of any string trimmer is the loading of the head. This new design will save you time and frustration.
This new trimmer seems more powerful than the original fuel trimmer. It also runs for up to 1 hour with the 9.0 battery. That is plenty of time to trim the edges on a fairly good sized yard.
The trimmer is easily removed in order to work with another tool. All you need to do is unscrew the thumb wheel a few turns and push the release button and the attachment will slide right out of the power head. Slip the new one in all the way to the depth indicator line and tighten the thumb screw. It's that easy.

A Chainsaw Way Up There
The next attachment we will discuss is the pole saw attachment. I have had a cheaper corded electric pole saw for years. It always did OK but this new attachment is so much better it isn't even funny. It is ligher, better balanced and more powerful. Therefore my corded one is being passed on.
You can easily replace both chain and bar as they are both Oregon brand. The saw has a generous oil reservoir. Chain tightening is handled with an included steel scrench. (screwdriver wrench) This saw will handle branches up to about 8″ without cutting from both sides. After using it quite a bit I must say it has plenty of power for trimming branches up to the max capacity. I can push this saw fairly hard without tripping the overload circuit. It is very satisfying to use. The Makita is faster but in overall use you won't notice much. We also used it with a 3′ extension and found it almost as easy to use.

Articulation Is King
The next attachment is the articulating head hedge trimmer. As with the pole saw I have had a cheaper corded hedge trimmer for a few years. It did the job but I always dreaded using it. The corded one makes a horrible clacking noise and stalls easily. This new Milwaukee attachment is very solidly built and runs smoothly. It never stalls unless you jam it into a 1′ branch very quickly. Actually the trimmer has plenty of power to cut a 1″ branch but it takes a couple of seconds to chew through.
To change the angle of the head you simply pull back on the locking collar and adjust to your needs. Release the collar and it will lock in to position. It has easy to grip handles for this and can be done with gloves. When you are done, you can fold it back on itself to save space. The heavy duty blade cover will keep everything sharp and will protect people from getting cut.
I'm On the Edge
I am going to talk about one more attachment. This one is very solid and well built compared to others I have seen. The blade is bigger and thicker, The bearings are bigger. It is adjustable for height and should do well for anyone needing a heavy duty edger.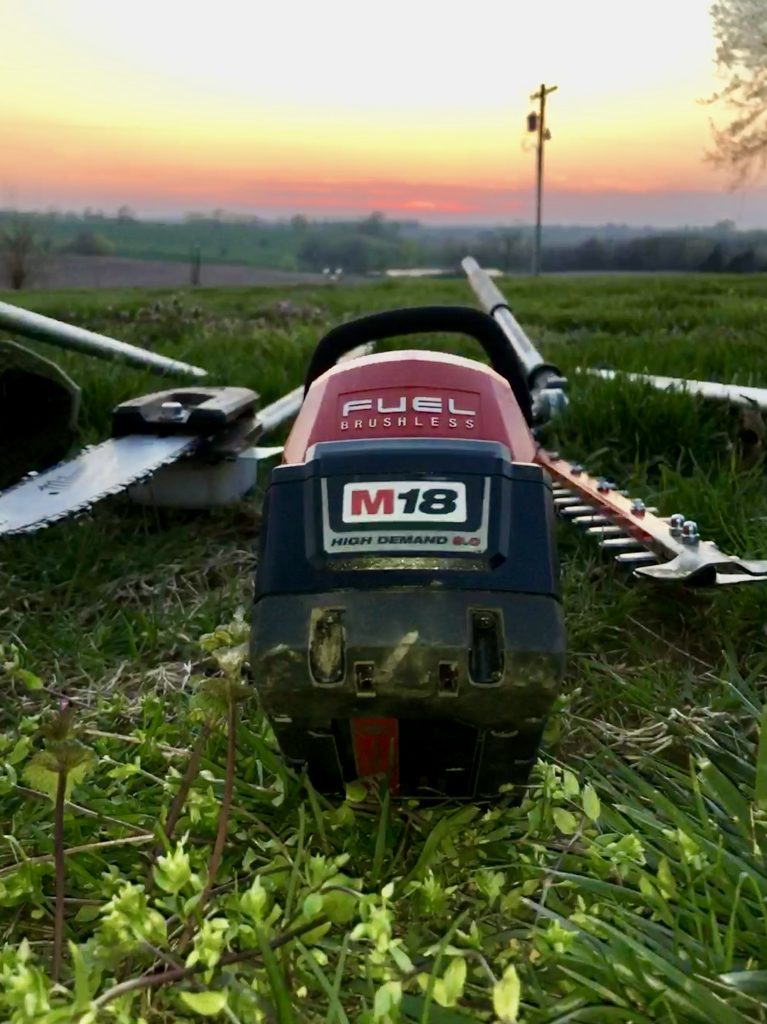 In conclusion, I am impressed with the Milwaukee Quik-Lok powerhead system. The motor is powerful and smooth enough for each and every attachment. Each one of the attachments are well thought out and executed. Although our time has been short with these tools, It seems that Milwaukee has hit a home run with this system. Time will tell how long they continue to do their jobs. With a 90 day satisfaction period and a 5 year warranty from Milwaukee you can feel confident in trying one out for yourself.
Check out the full line of Milwaukee OPE at ACME TOOLS
Easy Load Trimmer Head: Easy Line-Loading, Under 30 Seconds

Part of the QUIK-LOK Outdoor Power Equipment Attachment System

Shop the New Milwaukee M18 FUEL String Trimmer QUIK-LOK Attachment System
We may receive a small commission if you click on
links to our retail partners. All
expressed opinions and experiences are my
own words. My post complies with the Word Of
Mouth Marketing Association (WOMMA) Ethics
Code and applicable Federal Trade Commission