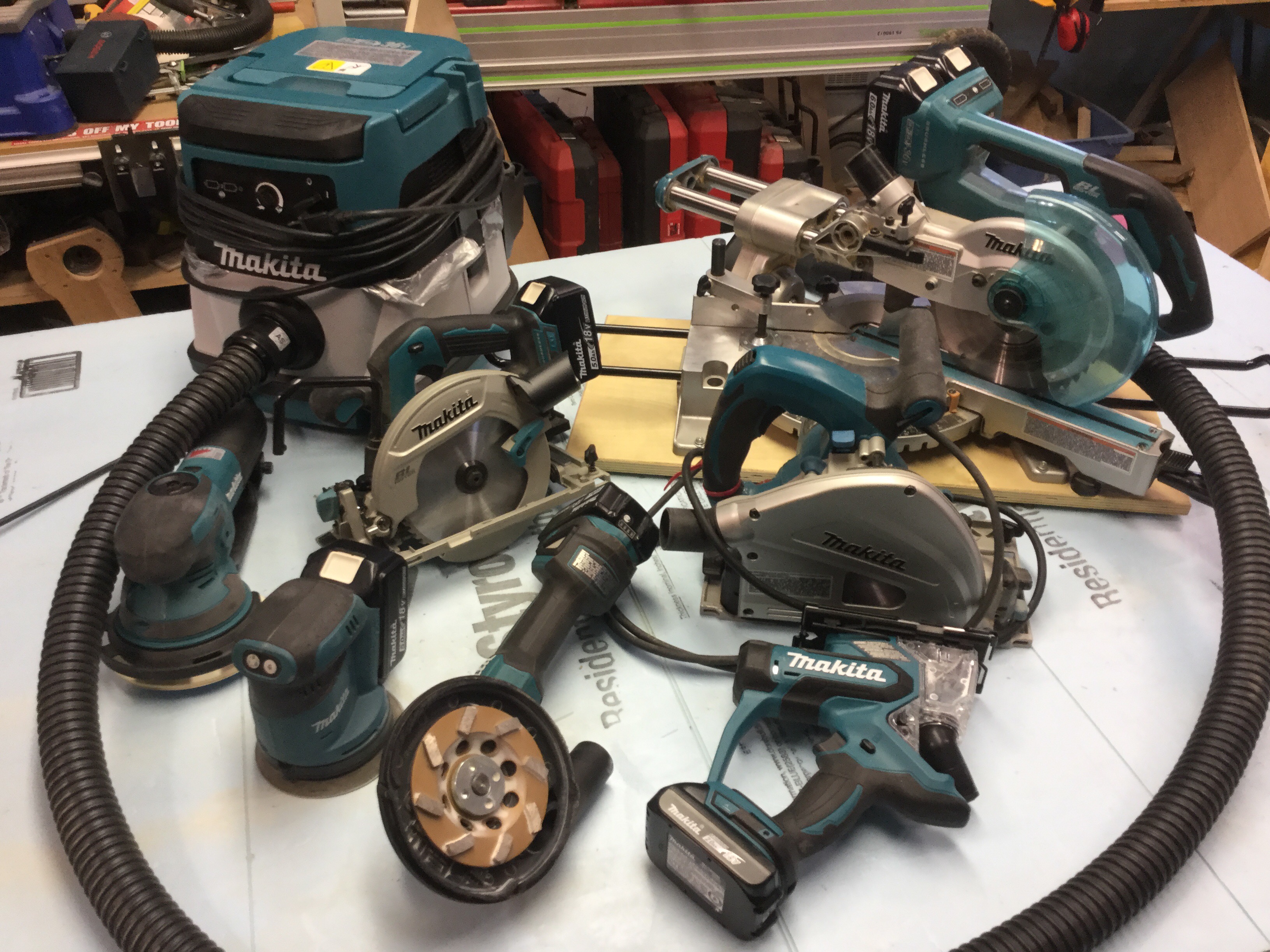 I have really enjoyed getting to know the xcv04 HEPA vac. It is one of the smallest canister type extractors on the market but has surprisingly good power. This is honestly the case when running it on ac power or on 2 18v lithium ion batteries. I should note that the power is not the same when running on the batteries but it is very respectable and adequate for many tasks.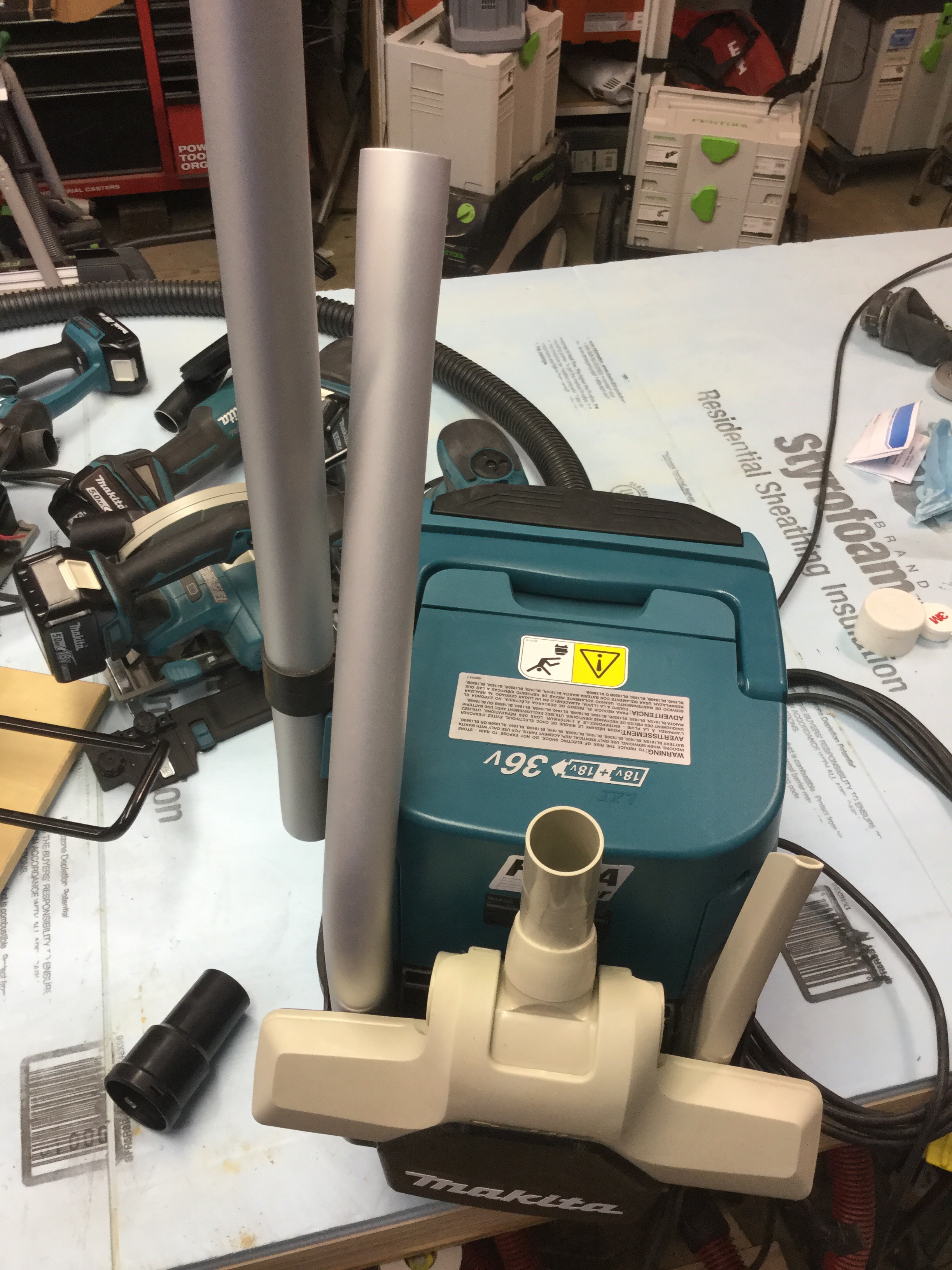 It comes with a nice compliment of accessories. There are two hoses. One smaller lightweight hose and a larger heavier anti static hose. There is a nice wide steerable floor tool, a rubber crevice tool, And real metal extension wands. It comes with a debris bag for the canister as well as a nice full sized fine mesh prefilter and HEPA filter.
The whole case is very solidly built and aids in noise reduction. The casters are very sturdy and roll and turn very nicely. There is an on off switch on the front panel as well as a variable speed dial. On top there is a full width foot switch. This comes in very handy when running a power tool connected to the hose. You can kick the switch , run the tool and kick it off very easily.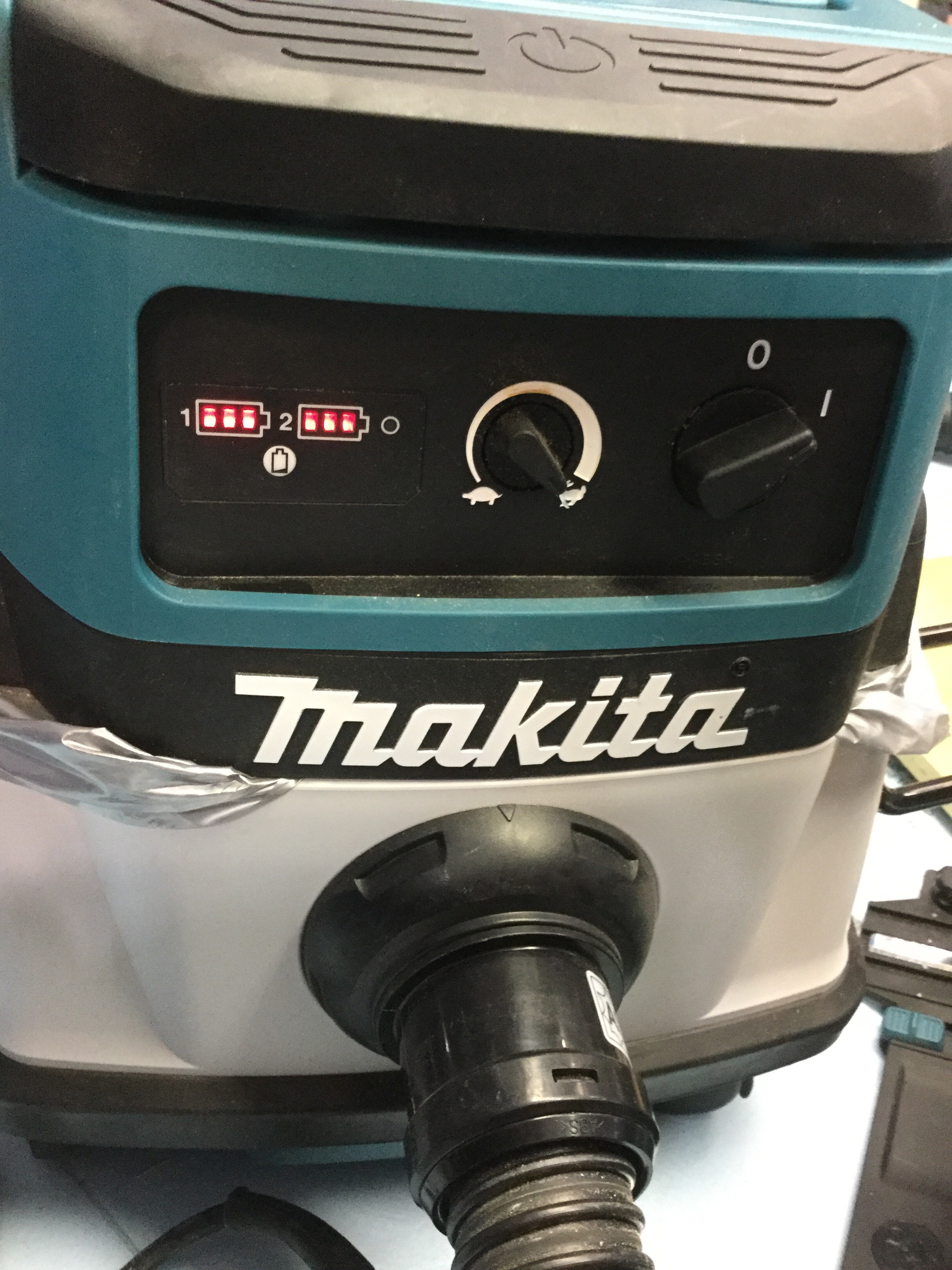 As far as I know, at the time of this writing, it has the most cordless power of any vac sold in N. America at 74 CFM. It has a static lift spec of 36″. CFM is the volume in cubic feet of air the blower can move in one minute. Static lift is a good measurement of the negative pressure (suction) it can generate. It is actually how high the vacuum can lift a column of water in a 1.5″ tube.
On corded power The little Makita has 127 cfm and can lift this column 96″ off the ground.
I am very pleased with the real world performance of this vac. Specs are just numbers for comparison.
My testing has been mostly cordless mode and can be highlighted by three or four outstanding examples.
The first application was using it with the Makita xsh03 6 1/2″ brushless cordless circular saw. The saw itself comes ready for a dust port. The factory accessory dust port takes only a few minutes to install. It comes with the vacuum port and a shorter thumb lever for the blade guard as well as the mounting screws.
If you have ever used a Makita cordless circular saw, you may have noticed that the vast majority of the dust is expelled out of a discharge chute. This is no accident. The design is there to aid in dust collection should the user decide to install the dust port vacuum attachment. When I installed the accessory dust port and hooked the extraction hose to it the fit was just right .
My first cuts were on some UV finished birch plywood. This is normally a very dusty product to cut. Both large shavings and airborne dust are usually pretty high. Well.. not this time! I could breath just fine. Even the surface of the plywood was missing the telltale dust particles.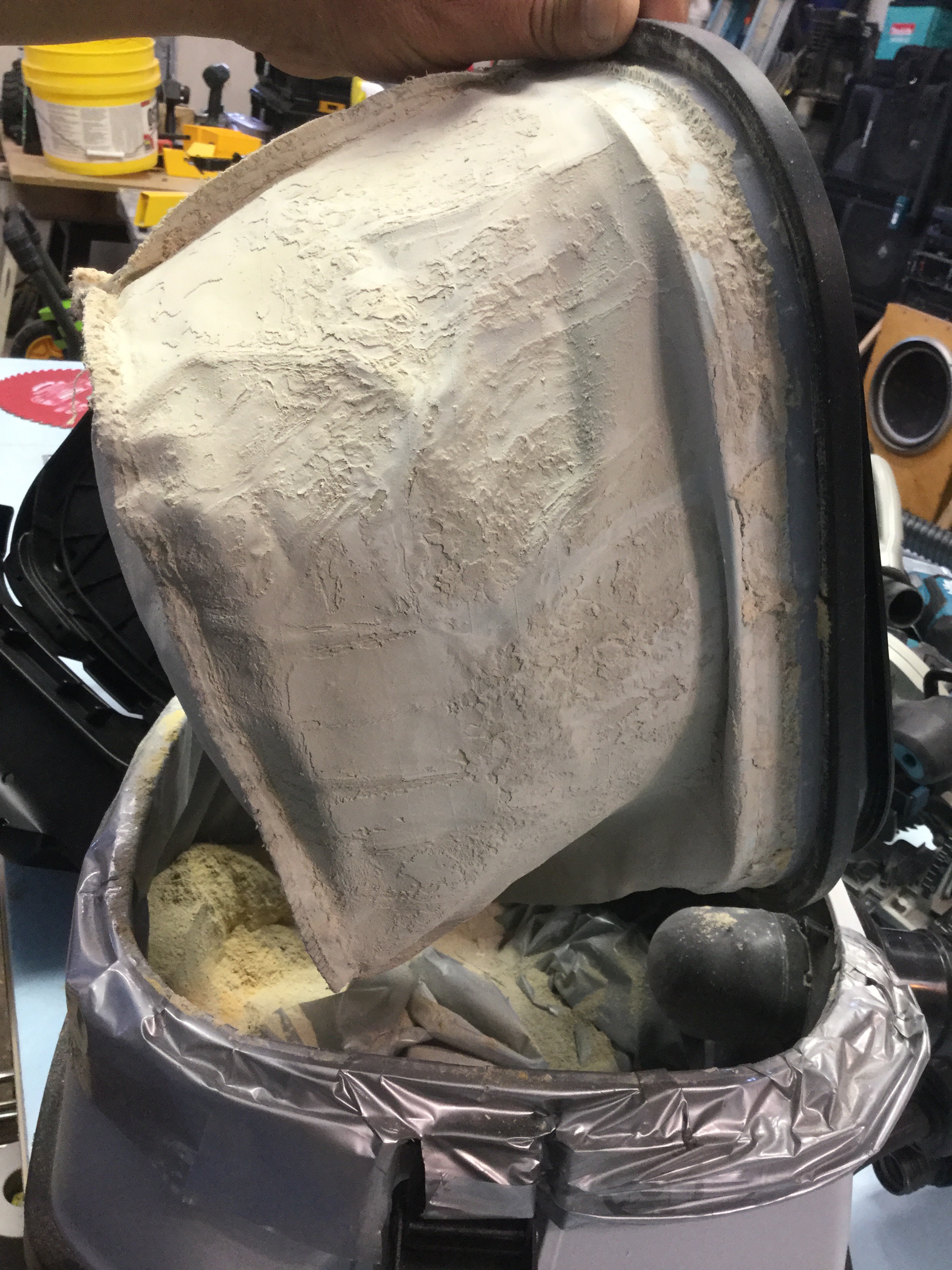 Emboldened, I decided to try some MDF. Now most of you know that MDF is actually from the devil himself. It is the bane of many a carpenters existence. The dust from cutting it is very fine and light and it seems to go everywhere and sticks to everything. It is abrasive and very hard on tools. It gets in your eyes and scratches. It makes us cough and is known to be carcinogenic.
The cut was nearly dust free! It wasn't quite as clean as a Festool Track saw but it was the cleanest cut I had ever made with a regular cordless saw. There were just a few larger heavier shavings from the blade on the surface of the MDF. The fine dust that usually floats in the air was in the vacuum. I was needless to say very pleased.
The next tool I wanted to try in Cordless mode was the LXT X2 36v sliding compound miter saw. It passed this test with flying colors. Every cut was as dust free as a miter saw can be. I would say it was extremely close to the performance of the Festool Kapex hooked to a Festool extractor. This combo is known around the world as the cleanest miter saw on the market. The Makita was matching it cut for cut even though it was running on a cordless extractor. I feel it is a very effective combination for working clean.
I knew a harder test for the extractor would be a table saw. I am currently testing the DeWalt Flexvolt 60v max tablesaw. The Flexvolt tools have been outstanding and the table saw is no exception. Most table saws have a dust port in the rear but the newer Dewalt saws have two dust ports. One in the normal rear position and one on the upper blade guard. In addition they have flexible baffles running underneath from the blade shroud to the table top. This creates a seal to keep the dust from escaping and it has proven to be the most effective dust collection set up on any portable table saw design. In order to test the saw I needed to split the vacuum hose into two. I used a Furnco flexible wye no hub connector. I then connected the two hoses to both ports. I made several cuts on solid hardwood, plywood and MDF.
The results left me in awe! Even on battery power, it was as dust free as my Dewalt DWE 7499 on a corded extractor. Only a few heavier crumbs escaped the extractor. All the fine dust was contained. I did not need a respirator even on the MDF rips.
My next test was even more difficult. (Disclaimer: This is not in compliance with new OSHA regulations which go into effect Sept 23. It is merely to display the effectiveness of this unit at removing dust. Use at your own discretion)
I used the Makita LXT brushless grinder with a dust collecting shroud and a 4 1/2″ diamaond concrete grinding cup . It passed this test with flying colors I ground quite a bit of material smooth without a spec of dust in the air or on the concrete. As I mentioned. This solution is not OSHA compliant after sept 23 2017. It does however work if you are working on your own property or for a small exposure job that doesn't fall under the ruling.
In each of these cases, the Makita HEPA vac would have almost twice to 3x the power when plugged into a 120v receptacle. I do not see this as a handicap for the extractor when on battery power. I see it as an advantage and an extra level of effectiveness and versatility. After all what can your normal vacuum do for you when there is no power?
MI really feel this is significant! It means we finally have solution to work clean even when there is limited or no power on a job site. I have worked on many job sites where there are only one or two live receptacles and several trades trying to get their respective tasks done. Sure we can bring a power strip or 3 way cord and get by. This may work great or it may trip the breaker or worse damage your tools.
On my fire damage restoration jobs we sometimes work for weeks with no power at all. Generators work well by but they cause pollution and fatigue us with noise.
I personally am working toward a 100% cordless jobsite. This Makita extractor has brought me one step closer to that goal.
For more info visit
Available at Acme Tools