Have you ever wondered why we even need a cordless miter saw? If so you are not alone People ask me about it all the time. I feel they are very important to have for many different situations. On some job sites there is limited or no power. I have worked alongside many trades over the years. Let me tell you , it isn't very fun sharing one or two circuits with different crews. Popping breakers is no fun for anyone. It can ruin a cut or and expensive piece of material. On some building projects only an electrician is allowed to reset a breaker after checking the circuit and determining that it is safe. Down time is no fun when you are trying to get a job done and stay on schedule. Cordless tools prevent all of those problems. If you have enough batteries you can work all day without touching a charger. Even a large tool like a miter saw can benefit from being cordless. The time saved by leaving the cords in the truck can be significant over time.
When I first heard news of the Fuel miter saw from NPS15 (Milwaukee tools New Product Symposium) I was really hopeful that it would finally be the real cordless miter saw I had been waiting for so long. At NPS16 we were able to finally use it and share pictures and video. I was perplexed with it from the first cut. It sliced 4×4's and 2×12's pretty well but it had a hard time producing a good bevel cut.
Why was it called the worlds first when other companies already had cordless miter saws of their own? The existing saws were small with blades between 7 1/4″ and 8 1/4″. they were well made and capable. All of them had what I feel to be an oversight or design flaw. They all suffered from having a single bevel design. This is pretty significant to a trim carpenter. With such a small blade, many cuts must be made on the flat, lying down on the table rather than standing against the fence. Having a single bevel means that some of the time you must flip the work piece in order to obtain the correct angle. For many cuts that is not a problem but for cuts on materials with a profile or a finished face it is not a good solution. Another issue is blade availability. You can find good blades for these smaller sized saws but you have to look much harder. It is much easier to find great 10″ blades.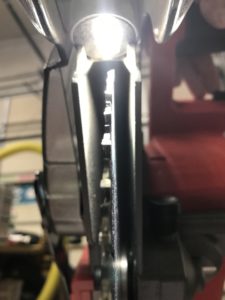 I have often felt the first great cordless 10″ dual bevel sliding compound miter saw would own the market. 10 inch saws are probably the most popular at least in North America because they are full-size saws with full-size capacity. Many have stated that they get less blade deflection and wandering in the cut with a 10 inch saw versus a 12 inch saw.
The Milwaukee Fuel was the first in this 10″ class. It has all the features we expect to get the job done. It has good capacity for a 10″ saw. It has dual bevel. The controls are all smooth. The slides, bevel function and miter table are all smooth. There is a very nice cut line indicator light that uses an LED to cast a shadow line from the blade on to the
workpiece.
The Led not only makes it easier to see your cut line, it illuminates your whole piece. Notice how it works in the following video
[wpvideo ZaeVy67u ]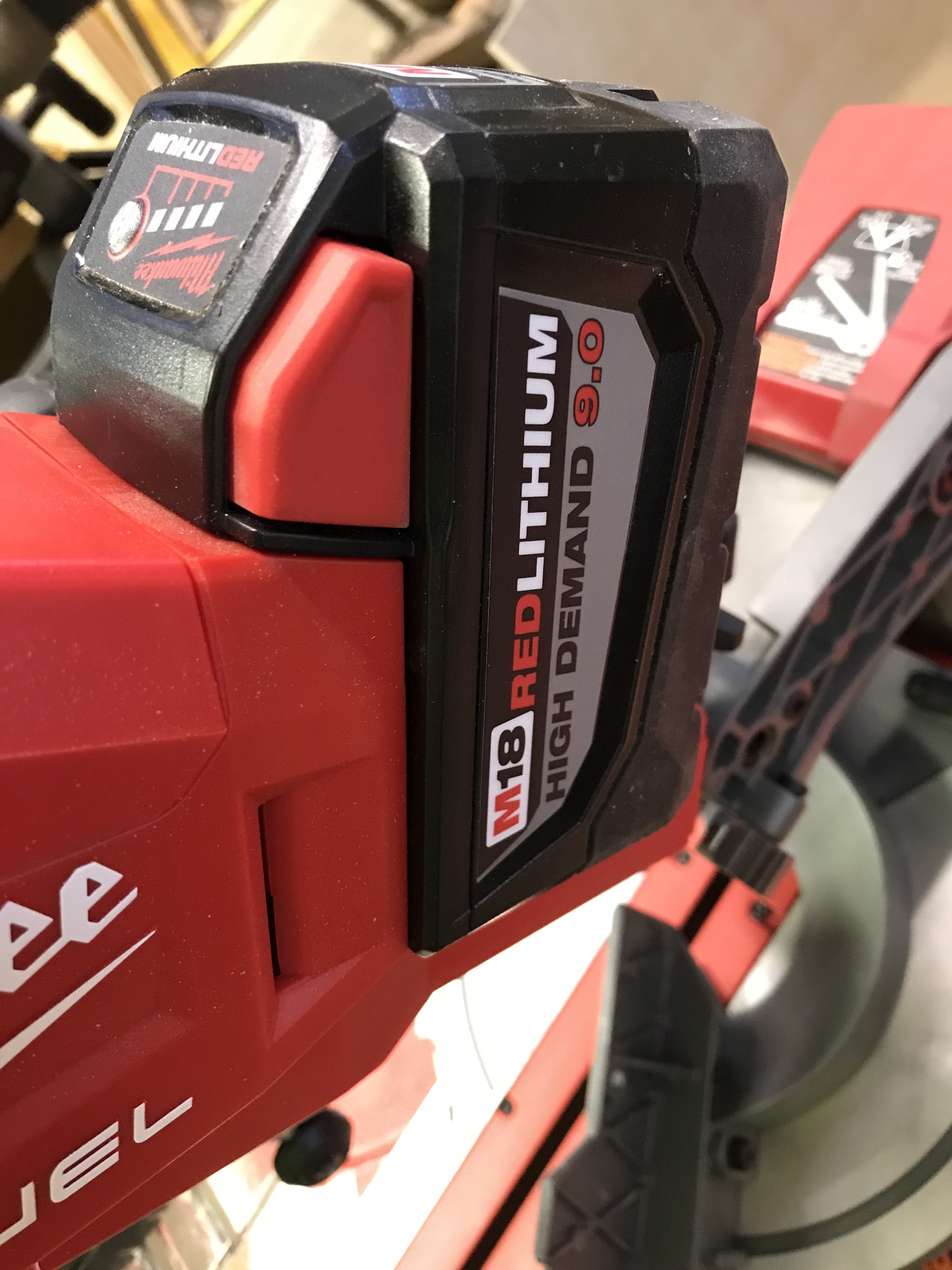 I have found the Milwaukee Fuel Saw to be fairly efficient. It has a relatively powerful Brushless motor that extracts all possible power from a single 18v battery. It works with a slim battery. it is better with a 5.0 and even better with a 9.0 high demand battery with 3 rows of 5 18650 cells providing higher current and less voltage drop under load.
I have actually been surprised at how well it cuts with the factory blade. It has made pretty smooth crosscuts and miters for me. It sips 9.0 batteries. It can do 100's of cuts on one charge. Around 400 cuts on base board or slightly less in 2x material depending on the width. Efficiency may sway you to look at the saw. The bigger Flexvolt Saw has more ultimate power but cannot match cuts per battery.
I have used the saw on many jobs. After getting it dialed in I can say that it has actually done well at making different types of cuts in trim. I have installed baseboard, base shoe, casing and crown molding.

I have cut both hardwood and MDF with it. I have also used it for cutting cabinet face frame material. The accuracy has never left me wanting. I can say that on several jobs, I have never ruined a cut with the saw because of accuracy problems. In finish work the power is adequate. It is surprising what they can get out of an 18v battery these days.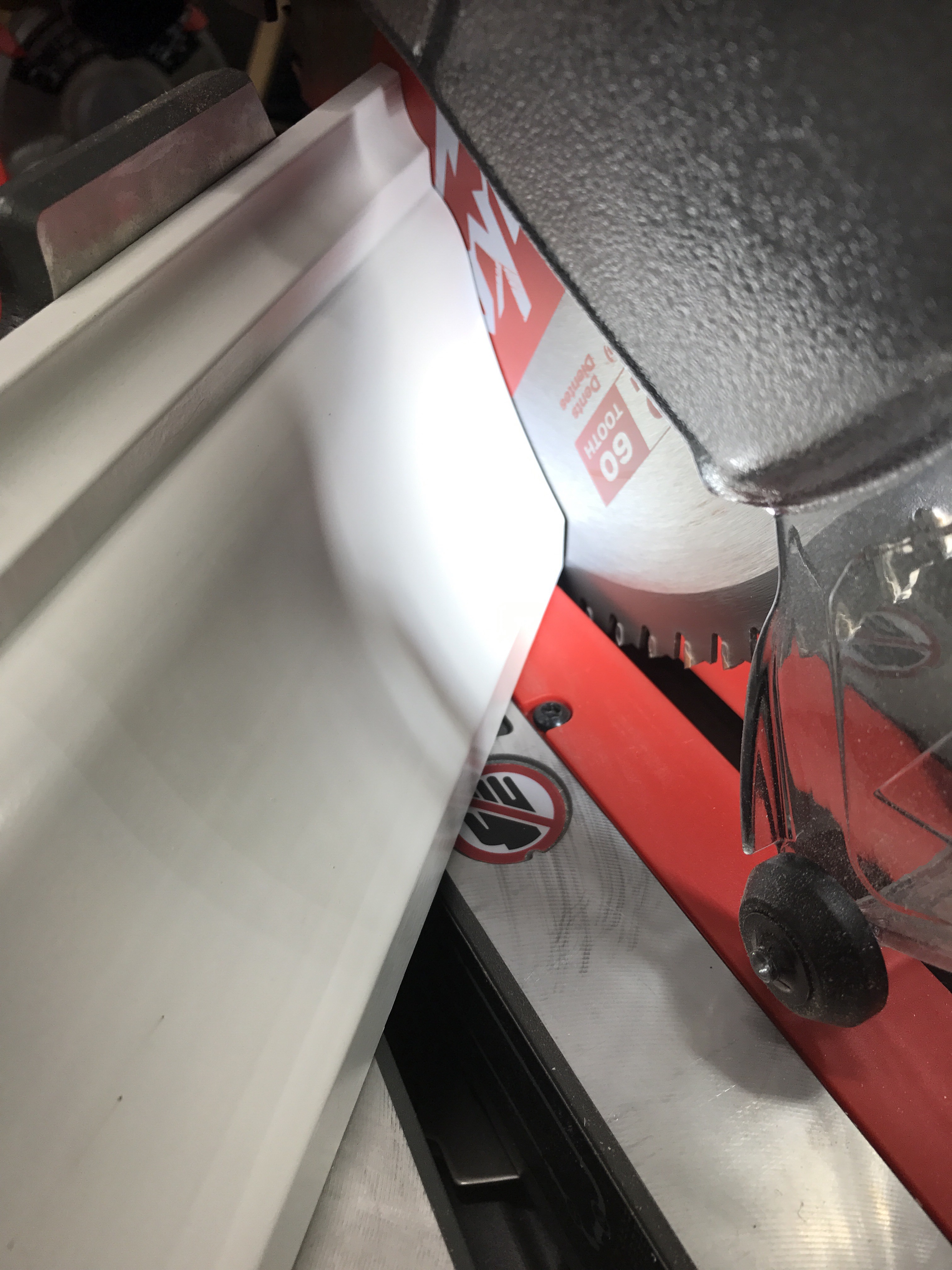 I have also used it for framing lumber. It does really well on cross cuts and mitres on 2×4- 2×8 material. It also crosscuts 2×10's and 2×12's fairly well.
The place I find the saw struggling is with bevel cuts on material over 1″ thick. It will make those cuts but you need to remember it is 18v with a full size 10″ blade. It has a tendency to dig in at the end of the plunge and stall if you don't have a slow and steady feed rate. I have noticed on my jobs that guys who call miter saws "chop saws" seem to have more trouble with this than finish carpenters.
There is a some discussion about flex in the rail system. All saws have some flex. The Milwaukee is somewhat stiff when the head is fully extended toward the user. As the head slides toward the fence, more of the rail system is exposed and the flex increases quite a bit. I checked quite a few sliding miter saws from many manufacturers and I found the Milwaukee to be mid pack on the HIGH side in the flex. This is not as much of an issue with miter cuts. It comes into play more with bevel cuts. The stiff headspring means you have to push down pretty hard on the handle to get it to plunge. This is a poor combination for consistent, accurate bevel cuts. I always try to be mindful of this when using any miter saw. I always try to have a neutral grip. That means I avoid lateral pressure on the handle. I try to stay lined up with my hand and arm so I am only applying pressure down and forward through the whole cut. All said, this saw has never ruined a cut for me on the job. It can produce nice cuts for me. I will say it takes more concentration with the fuel than other saws to make those nice cuts.
Did you know you can use some miter saws to make dados? The Milwaukee fuel is one saw that has the trenching feature. Check this video to see how it works.
The biggest weakness after the head flex is dust collection. I am extremely picky about dust extraction on my jobs. If you watch my Instagram videos I think you already know that. I am deeply invested in Festool because of this. In our fire and water damage restoration work we find ourselves in many finished homes and dust control is a huge priority. The Milwaukee has a pretty long dust channel built into the main sliding arm that terminates into a short tube and then a supplied dust bag. It catches about 30% with the bag. A little more with an extractor. If you are a Festool guy you will not be impressed. If dust collection is not a big issue for you, it could be a good fit. I would be more likely use this saw on new construction where there are many trades working and making dust already. I would use it for framing a deck or even a house. When cutting outside I don't see dust as being a problem.

The saw itself is very compact and lightweight considering its capacity and feature set. I love how easy it is to transport and set up. I have heard many comment that they prefer it over the 12″ DeWalt Flexvolt saw and other corded saws for these reasons.
My final verdict is this. If you are a Milwaukee fan on the M18 platform, this saw is at least worth a look. Most Milwaukee users I know are not heavily invested in Festool or other tools with dust extraction or extreme accuracy as a priority. If you need a general purpose saw the Fuel Miter Saw should serve you very well. The smaller footprint and light weight make it a nice option for punch list work and occasionally the main saw on a job where power is off or limited. We regularly need a saw like this on jobs with no power. If it had stiffer rails, more power and good dust collection I would have kept it. As it is I moved it on to a framer. We are hoping to see the needed improvements on Generation two.
Milwaukee M18 18-Volt Fuel Lithium-Ion Cordless Brushless 10 in. Dual Bevel Sliding Compound Miter Saw Kit
" target="_blank" rel="noopener">Buy Now at The Home Depot
Pros:
Convenience
Performance
Weight
Smoothness
Capacity
Cordless power
Accuracy
Value
Features
Cons:
Dust
Flex