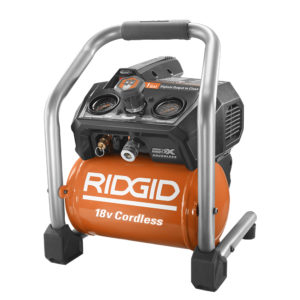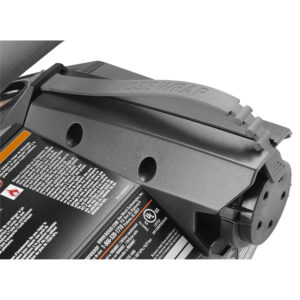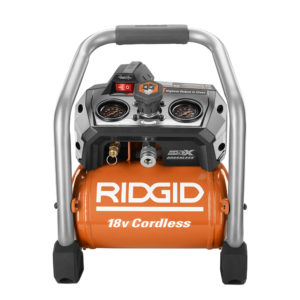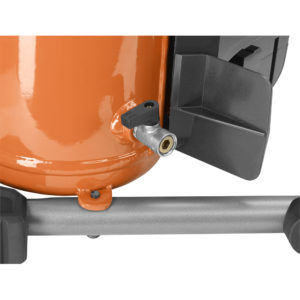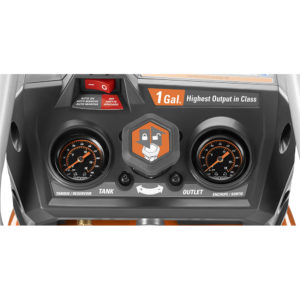 Ridgid cordless air compressor
I have heard many mixed thoughts about the concept of a cordless air compressor. Some love the idea and couldn't wait to get one. They feel the convenience is perfect for their needs. Others say, "It's a waste. If you have to have a hose you may as well just have a cord too and not have to worry about batteries."
Ridgid was the first to offer an actual cordless jobsite compressor and I think they did a great job with it. It is 1 gal. With a max pressure of 120PSI. It runs on one or two 18v batteries. I like the nice rubber feet. I also like that it is fairly quiet. The handle is nicely placed for balance. Many compressors will hit you in the legs when carried. This one is one of the nicest ones to carry. The drain is a nice and easy 1/4 turn valve.
BSince it's so easy to move, you may find yourself using it with a shorter hose and moving it around much more than a normal compressor. To me it makes sense.
Cordless nailers are all the rage these days. They are better than ever but there are very few good cordless 23GA pinners. There are no cordless 21GA pinners that I know of. With the 18v Ridgid compressor I can keep using my cordless guns and still have a high quality pinner that moves around with me. This is especially nice when moving from room to room installing casing or other applied moldings. The best cordless nail guns still fall short of the best pneumatics in the same class. The cordless guns are very close in general performance but they are still much larger and can't match the power of a good pneumatic with full length nails.
Check it out at The Home Depot
With the Ridgid you can be cordless without being stuck to any particular brand. You can use a Hitachi 15 ga. Along with a senco 18 ga. a Cadex 21 ga. and a grex 23 ga. or any combo you own.
I have taken it on a few cabinet and trim installs and I must say I am very pleased with how it works. I have two of the small 1 gallon corded Senco compressors and as far as I'm concerned they will be gathering a lot of dust after having this Ridgid.
Performance
From an empty tank the Ridgid only takes about 55 seconds to completely fill. It takes about 23 seconds to recover after kicking on when the pressure reaches around 87 PSI. This is very acceptable especially since it is so quiet. With my senco 15 ga finish nailer I can get about 6 shots before it kicks on. With my 18 ga. It can do about 11 shots and my Cadex 21 and 23 Ga. guns will do 16 shots. My Everwynn 21 and 23 ga guns will do 20 each.
Is it possible to use it with a framing gun? I tried it with my Hitachi and Paslode framing guns. I got 5 shots each before it refilled. This was actually very surprising because I only got six out of my 15 gauge finish nailer and these framers are much larger and more powerful. If you have just a few nails to place here and there this Ridgid could be a viable option. You can get about 10 shots before they stop driving flush in solid framing lumber. Wait a few seconds while the tank tops off and you can shoot a few more. Whether or not this is practical for you depends on your individual needs.
With two 5.0 batteries you can get about 90 recoveries. That is good for hundreds of shots with any application. With an Everwyn 21 or 23 ga pinner it's upwards of 1,800.
This portable cordless air compressor exceeded my expectations in every way. I will definitely keep it in my regular finish arsenal. It won't keep up with a large corded one does but it sure does a lot of things very well and I could see this fitting well into many different situations. Check one out for yourself to see if it's right for you.
Dual-power draw allows the compressor to run on both 1 or 2 batteries

Brushless motor technology for superior power and runtime

1 Gal. tank portable size for job site mobility

Locking regulator holds knob in place to prevent unwanted pressure changes

Universal push-to-connect quick coupler accepts both 1/4 in. automotive and industrial plugs with easy single-hand connection

1/4 in. turn ball valve tank drain – drain tanks quickly with one easy turn

120 maximum PSI provides ideal pressure for an extended range of work (for finish, trim, and inflation applications)

Powerful enough to drive 2.5 in. nails flush into the toughest surfaces

Hose wrap for efficient hose storage management



What I would change.
Make the tank a little larger.
Make it a little quieter
I review and recommend products to help you buy the stuff you need. If you make a purchase by clicking one of my links, I do earn a small commission. My pledge to you is this: I will always say what I really feel. I will not taint my reviews to make a quick buck at your expense. I want you to know the truth about the tools I review for the good or the bad. My picks and opinions are independent from any business incentives.