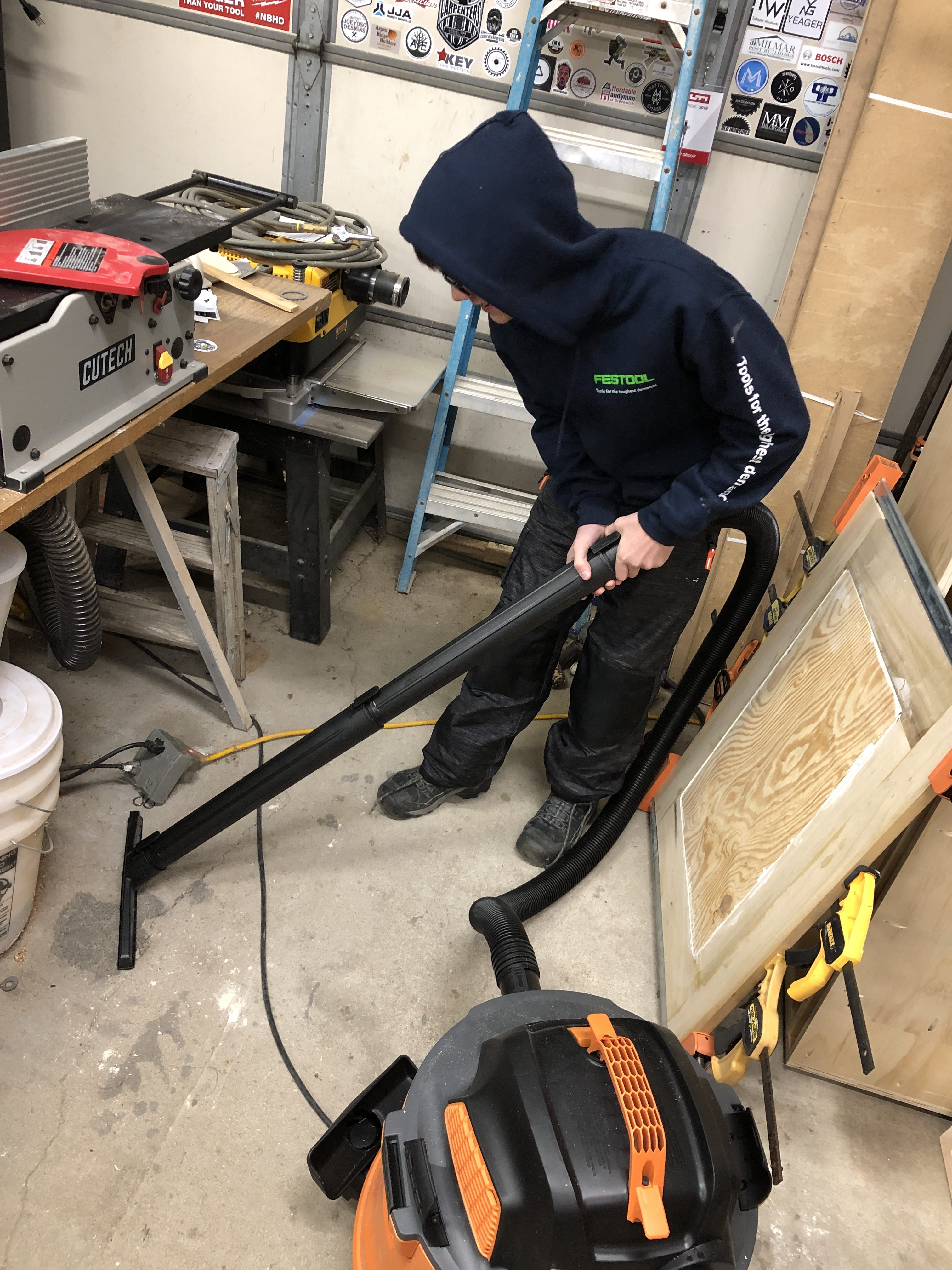 Ridgid Wet/Dry Vac Review
We use vacs daily in our remodeling and construction work. We also use them in our shop, vehicles and around the house. This is our first Ridgid in many years. I used to buy the cheaper wet dry vacs but several years ago I bought an industrial vac and I just couldn't go back. It was a big old metal 2 stage Clarke. Since then I have ventured into many brands of dust extractors.
Many have asked me how the more affordable options are. I haven't bought any of them for a long time so I was very happy to be able to partner with
Home Depot
on this new
Ridgid Wet Dry Vacuum
.
We use dust extraction to minimize clean up on our jobs. Most of the clean up for us is during and after the demolition stage of a job. That is where these vacs shine. They have bigger hoses than all of the European dust extractors. They can gobble up more debris in less time than any Festool or similar vacs. These may not have the pressure of some of the top extractors but they do have higher CFM than most.
We really like how well it sucks up chunks of drywall, insulation, gravel, plaster, nails, screws, dead mice, insulation, sawdust, wood chips, leaves, water, mud and anything else that will fit through the 2 1/2" hose.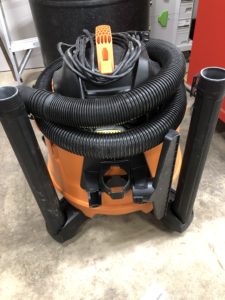 Speaking of hose, this one has some cool little latches to keep it from popping out of the vac or from the accessories. They are actually pretty nice because they are super simple yet secure. To me there is nothing worse than trying to clean up a job or shop and your floor tool falls off the hose! The hose also resists crushing sand seems to spin freely to help prevent kinks. It is also easy to tame this hose because there is on board storage for it. That is something lacking in many more affordable wet dry vac's.
The vac also has convenient storage spots for the extension tubes as well as four dust nozzles in different sizes and shapes. It has a crevice tool and floor tools. They all have that nifty locking system so they stay put.
One reason I got away from this type of vacuum was because I found myself spending a lot of time cleaning out the vacuum filters. Since then I have gotten used to buying pre-filter bags and let me tell you they are a lifesaver when using this type of vacuum. They will catch everything but the very finest dust. You can go through several bags without having to clean your main pleated filter. I bought a two pack of the high-performance bags at my local
Home Depot
and I think it was about $19. I feel they are well worth the cost when you can easily spend 20 minutes cleaning out the filter and then you waste hours letting it dry.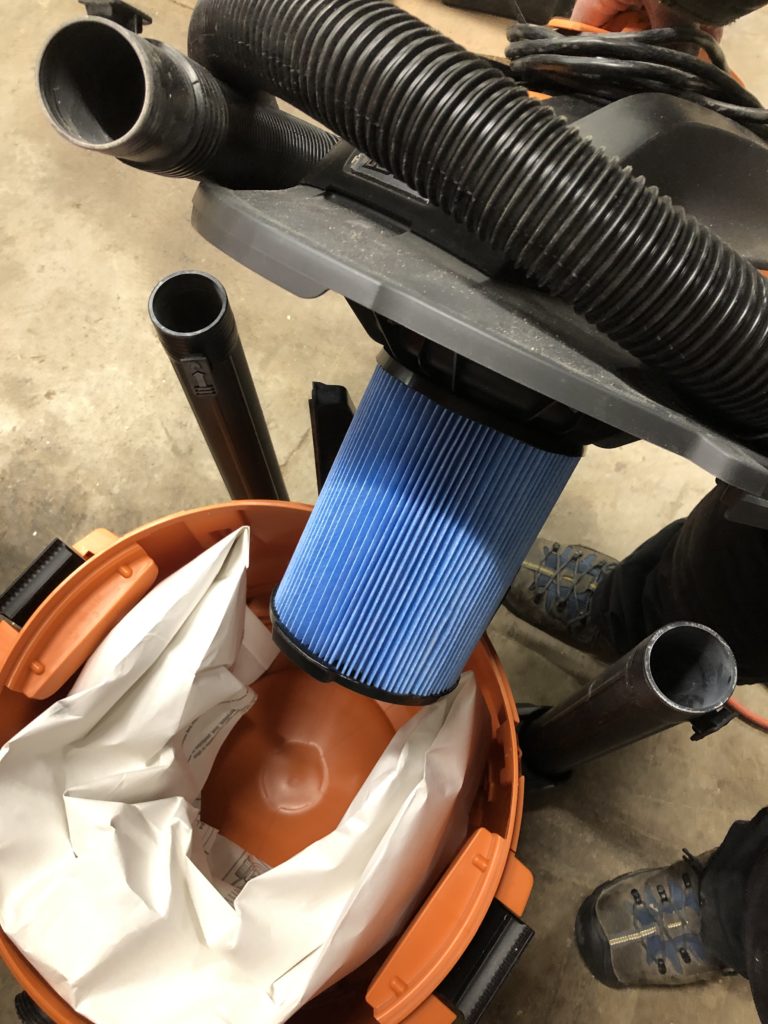 This
Ridgid vac is perfect for those tools as it comes from Home Depot
. All I have to do is change bags when they fill up. The more I use those tools the more often I have to switch out the bags.
---
I couldn't help but wonder how well the Dustopper would work. Sold at Home Depot also. I thought, "If it works well I can save a lot of money on bags." I must say I am very pleased with it. The bucket has been emptied several times and so far I cannot find any evidence of dust in the pre-filter bag.
---
It is truly amazing how much dust is collected from my table saw with this vacuum. I can rip plywood, solid hardwood and even the dreaded MDF without having a speck of dust in the air. It has great power and airflow. Even the jointer and planer are easily handled by this vac. They make a lot of chips but the vac just gobbles them up with ease.
One of the best reasons to get a vac like this is for cleaning the shop floor after a project. It really works well for this task. It's not the thing I look forward to but when it's done everything just goes better. My favorite clean up day is a Friday. It makes Monday's a lot more pleasant.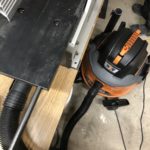 Inevitably you will need to clean up a wet spill at some point in your life. This Ridgid wet dry vacuum has plenty of power to clean up a huge mess. Just take the bag out before you start. You can empty your hot tub with it or clean up after a pipe break or bad storm where you get water in the basement. The most important thing to remember is use a GFCI protected circuit. The next thing to remember is to empty the vac, rinse and let it dry when finished. You don't want it to get sour or moldy inside.
Part of the most powerful line of vacs RIDGID has ever made
11 Design Upgrades including hose storage
Same low price as previous model
I acknowledge that The Home Depot is
partnering with me to participate in
the ProSpective 2018 Campaign. As a part of
the Program, I am receiving compensation in
the form of products and services, for the
purpose of promoting The Home Depot. All
expressed opinions and experiences are my
own words. My post complies with the Word Of
Mouth Marketing Association (WOMMA) Ethics
Code and applicable Federal Trade Commission
–