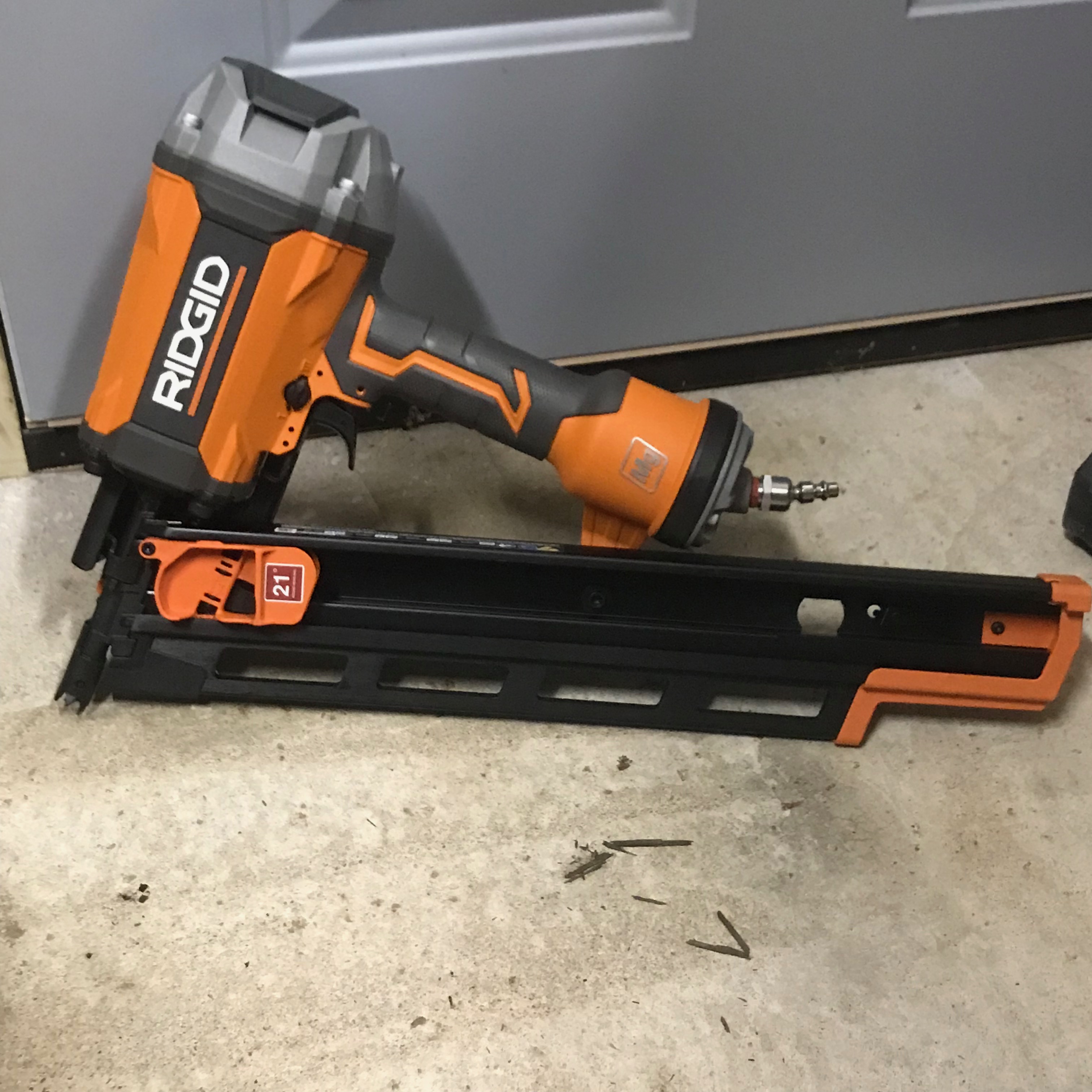 I have used many framing nailers over the years but for the last 20 I have pretty much settled on Hitachi NR83A guns which are full round head in the same 21 degree configuration as this Ridgid nail gun. I like to use full round head plastic collated nails because they are inexpensive and offer a very secure hold because of the full round head. In some areas they are required by code where the clipped his nails are not allowed. Since it is a plastic collated gun the magazine is quite long to allow you to insert two complete strips nails.
I have never owned a Ridgid nail gun before. I've never even considered one before. No particular reason. It's just that I found the Hitachi guns to be up to the task and I never found myself looking for alternatives. I have done residential construction for over 25 years now. I am not a full-time framer and lately I actually do less of it than I used to.
The framing I do now usually consists of restoration work on fire damaged buildings or remodeling projects and additions. We will completely gut one to several rooms up to a full house with a burned out attic and a big gaping hole in the roof. Because of this I probably do not need a full-time production quality framing gun. At this point I feel that the rigid is well up to the task to fit my needs.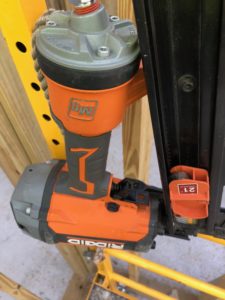 My first good-sized project with the gun was in Puerto Rico. We were there as volunteers for disaster relief from Hurricane Maria. Our crew was framing a new home on an old foundation. It had a new concrete floor. Using Florida's code for a cat 5 hurricane as a guide there was a bit of extra work we weren't used to. The double bottom plates were bolted with 1/2" chemical anchors between each stud. Everything was nailed normally then Simpson strong tie hurricane clips were installed at every connection. Both sides of each stud got clips top and bottom. Each rafter got clips top and bottom. Beams had steel straps up one side of the studs and over the top all the way to the other side of the studs. It was the most labor intensive small house I have ever worked on.
I was very pleased with the performance of the gun. It had plenty of power for the treated lumber we were using to build the house. We used it to frame walls and the roof as well as all the sheathing on the walls and roof. It was almost as powerful as the Hitachi guns. All of the lumber was solid 2x. There was no LVL available there. It was so powerful that we actually had to dial the nose back to avoid over driving the nails in the 5/8" T-111 treated sheathing.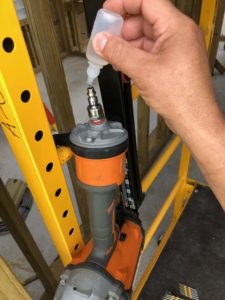 Some of the younger guys weren't paying attention and got in a hurry. We had to show them the depth adjustment and explained why we need to utilize it when switching tasks from framing to sheathing. (They also got a quick lesson on oiling the guns every day) We adjusted the depth to just barely set the nail flush. The gun was very consistent after adjustments were made. The galvanized ring shank nails should hold for many hurricane seasons.
One thing that I really enjoyed was how easy it was to toenail with the gun. The nose is well designed and works well even in tricky and awkward spots.
There are a couple of standout features I really enjoyed about this gun. One thing is the big fat rafter hook. It swivels around the gun for great flexibility. Next is the dry fire lockout feature. When you run out of nails it will not keep firing. This helps the gun last longer and it helps your quality of work. If it keeps firing without shooting a nail you may think you're getting work done when all you're doing is punching holes in your work. There are many guns on the market that will keep firing even when you are out of nails. I feel very annoyed when the gun does not have dry firelock out and I don't catch it right away. The sound does change when there is no nail but on a noisy job site with earplugs in and sometimes hard to catch it.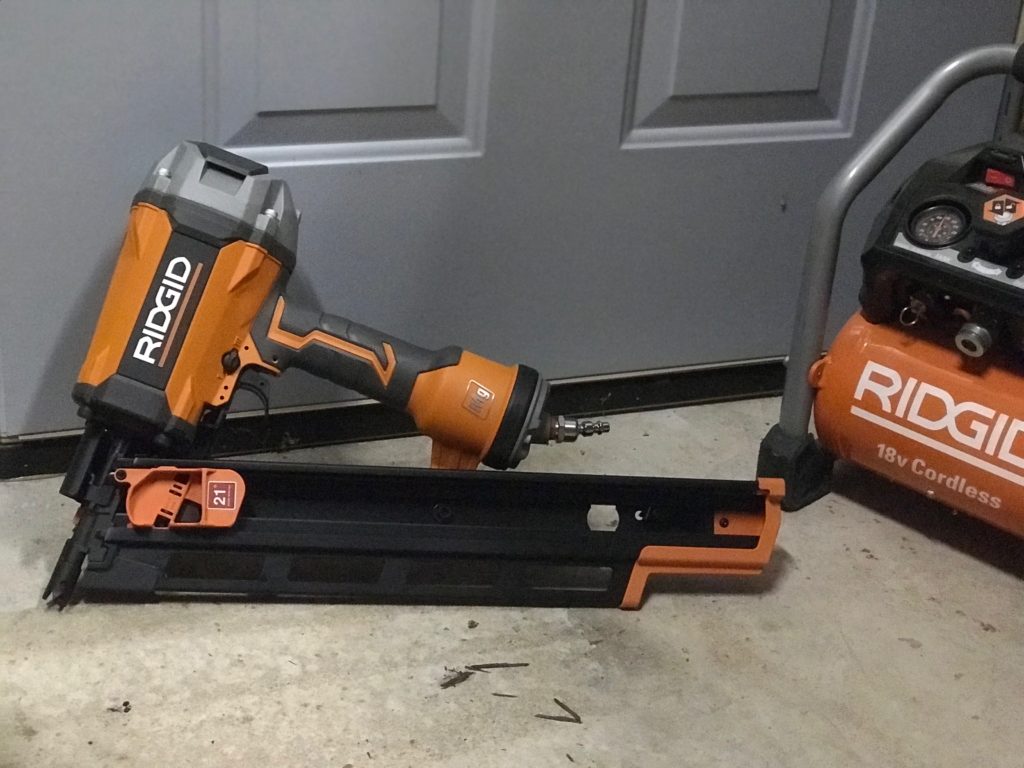 The other feature I like is the onboard switch between single fire mode and bump fire mode. It is so simple to switch between the two modes and I really appreciated not having to use tools or disassemble the trigger to make the change. There is also an easy clear jam mechanism that allows you to pull part of the magazine back and out-of-the-way if you ever get a nail jam or something bound up between the driver pin and the nails. The depth of drive adjustment I mentioned earlier is pretty straightforward and I think most people find it easy to avoid over driving the nails or having them stick up from your work. The magnesium body is light. The anodized magazine is plenty strong and survived being dropped. Overall it feels well-balanced and the over molded grip is comfortable in my hands. The curved and over molded trigger feels good to me even after a long day. Each person is different so I would suggest at least going to the store to see how I feels in your hand before making a purchase. You may feel that it is awkward or you may find that this is the most comfortable thing you've ever touched.
About the only thing I cannot comment on at this time is durability and reliability. So far in my use it has been flawless. I have heard from many carpenters and "do it yourselfers" that Ridgid nail guns are good for the long-haul and easy on the wallet.