SAE & METRIC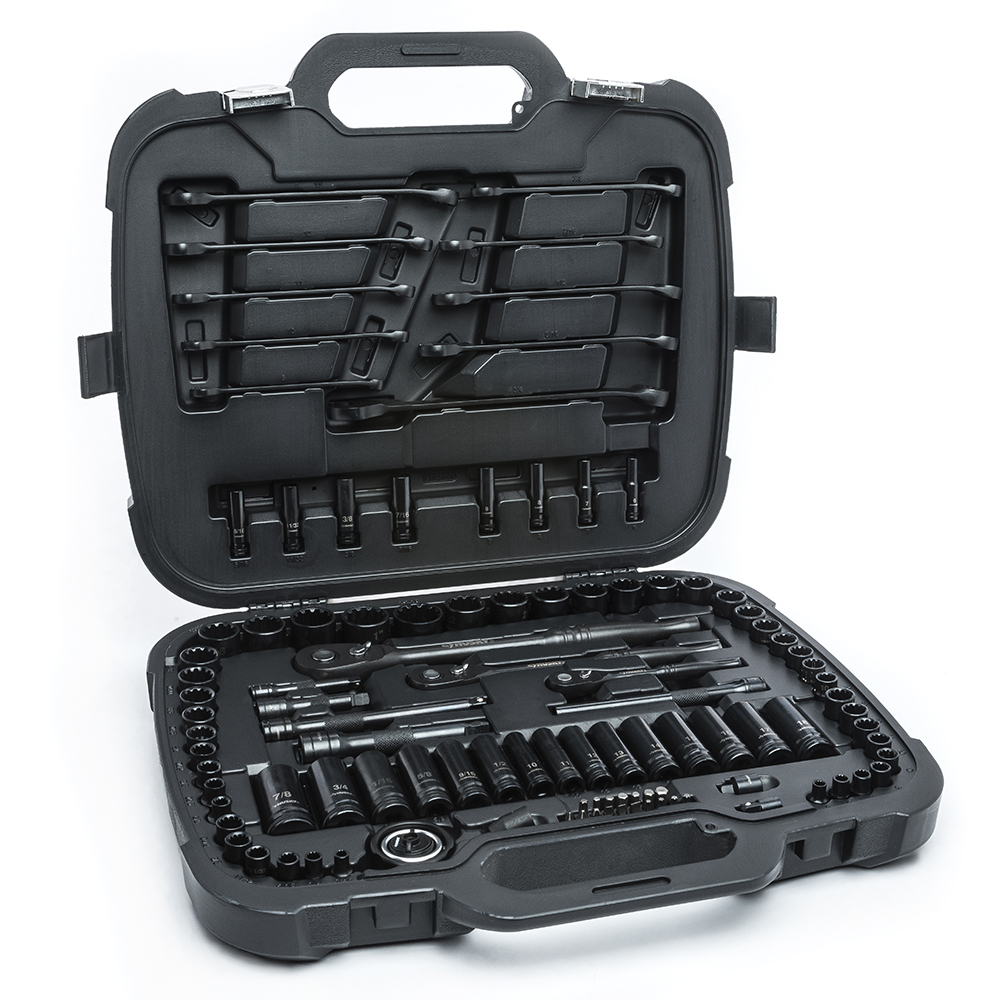 WHAT'S INCLUDED
This Husky 105-Piece Set is very well equipped but easily manageable at 105 pieces. It includes; 26-1/4″sockets, 38-3/8″ sockets and 14-1/2″ drive sockets as well as the corresponding ratchets. There are also 10 SAE and metric wrenches and sockets, extensions and adapters are also included in this kit. It seems like this selection of tools is right for about any mechanic or weekend warrior. It has the main things we need in order to accomplish about 90% of the tasks we do .
Included is a really nice 3/8″ Gimbal ratchet ( palm ratchet) and a screwdriver inset bit set as well. These are great for tight spots.
The first thing we noticed was how nicely the tools are finished. We really like this black satin finish. We haven't had it long enough to tell you if its as durable as chrome but I am super happy that I'll never be dealing with peeling chrome from this set. Have you ever gotten a piece of chrome stuck in your skin or under your fingernail? Believe me you never want to.
We also like the design of the box end of the wrenches and the sockets. It's more of a spline drive than a 12 point. This means less stripped nuts and bolts. I hate when a 12 point socket slips and I end up bruising my hand or raking my knuckles. The design of these really makes a difference. The sockets consist of standard length and deep well. They are made to have the capability to fit external torx, square drive, six point, twelve point, six point rounded edge and spline head fasteners.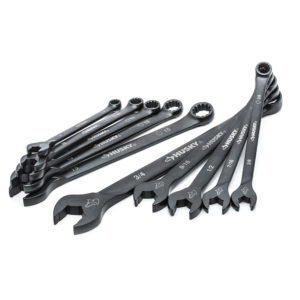 The ratchets have a well made quality feel to them. They are longer than I expected and the extra leverage is nice, I might add. The pawls are fine and this gives enough movement of the fastener even in a tight spot.
HANDY TO HAVE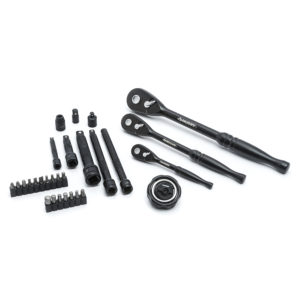 I have used this set on a daily basis for months as a forklift mechanic. They have served me very well. I didn't have the highest of expectations since these are not marketed as professional mechanics tools. I am kind of hard on tools. My father (toolpig) says I could tear up an anvil in a sandbox. He is probably right. I have no issue using everything to its full potential and then some. Cheater bars are there to make my job easier. Hammers give wrenches a little more torque. I'm sure I am harder on tools than the average person and this Husky set has held up rather well. My only complaint would be that the sockets do not stay attached to the ratchets very well causing sockets to fall on the ground or in a service bay. Thats probably not a big deal for some. It depends on what your situation may be.
BE PREPARED
We always like to keep a tool set like this in our vehicles to be ready in case of a break down. This set comes in a nice organized compact case. It can fit behind or under your seats, or any other convenient spot. It is nice to be able to grab all of your tools in one trip. Multiple trips mean loss of production to get what you need. that makes no sense when they are already included in this kit. This is also perfect for companies that do their own maintenance or repairs.
WHERE TO BUY
This is a 105-Piece set that would cost you over $400 to buy individually, at your nearest Home Depot you can pick this set up for around $110. The tool set is equipped with a lifetime warranty. Clearly stated on the case, that alone is well worth your money.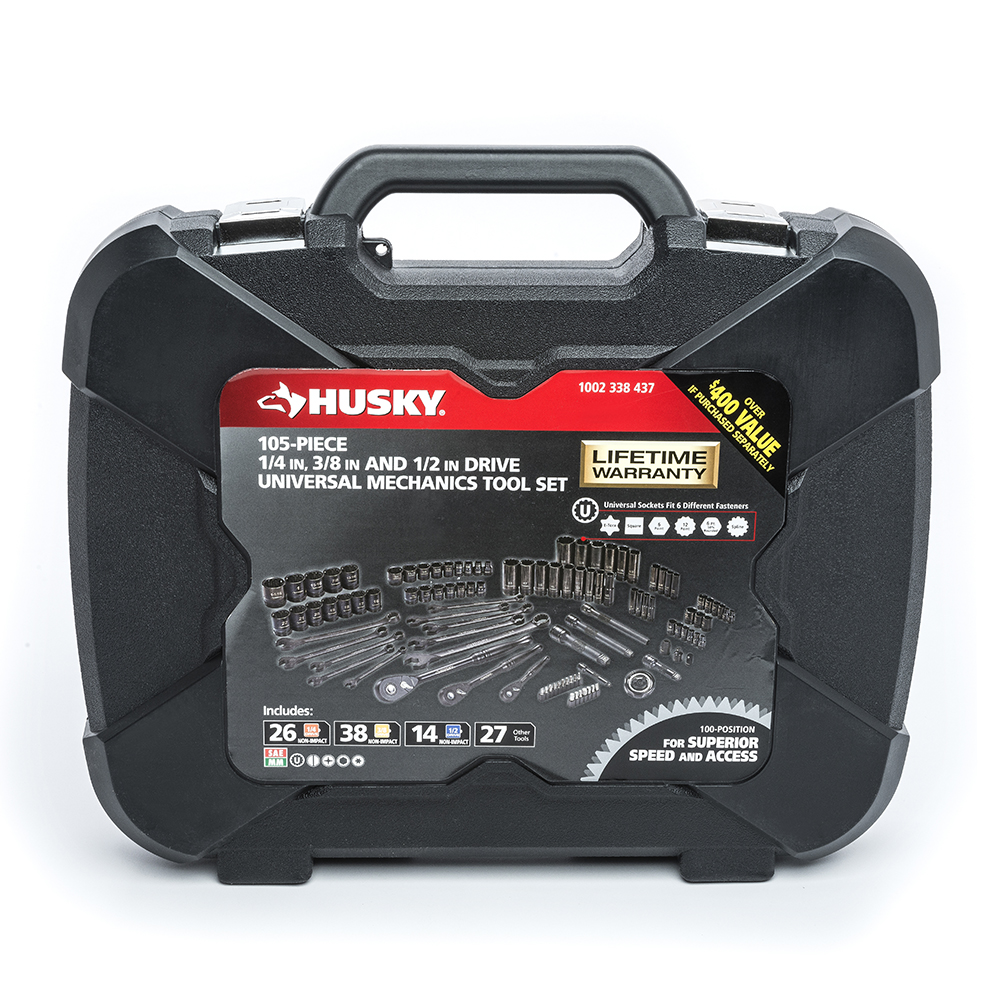 100-position ratchet to access spaces 40% tighter vs. 60 Teeth
Includes 66 sockets, 10 wrenches, 3 ratchets and 21 accessories
Lifetime Warranty