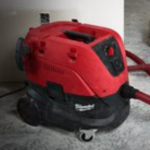 I have always admired Milwaukee Tools. My first high quality tool purchase was a Milwaukee Magnum drill in the early 90's. I can still remember the feelings I had when I pulled the trigger and that smooth power came to life. Back then I wanted a Milwaukee vacuum. They were big heavy-duty metal bodied extractors. Being younger I never felt I had the money for one so I bought cheap shop vacs. For the past few years I have noticed the Available Milwaukee vacuums were nothing like those beasts of the past. The newer ones actually looked suspiciously close to those cheaper shop vacs I had bought all along. I'm not sure if they are rebadged shop vacs or not. They looked close enough that I never bought one.
With the silica rulings that went into effect in sept of 2017 Milwaukee was in need of a true Heavy duty auto clean HEPA extractor. I admire them for choosing Nilfisk to build it for them instead of starting from scratch with a new unproven design. Nilfisk is a recognized leader in industrial quality vacuums and dust extractors.
The Milwaukee unit we ordered from Acme Tools was delivered within 2 days. I had to just take a few minutes to admire it. I'll just say it is a really nice looking vacuum. The red and black moldings have a very sharp-looking contrast. It has a space-saving low profile semi-rectangular shape. The wheels and casters are heavy-duty non marring rubber where they meet the floor. They are well-built and should hold up to years of job site handling. The front casters have brakes to help the unit stay where you want it.
This unit has a two stage filter system with a Pleated pre filter and a Hepa filter. Many of the newer auto clean units have an auto clean mechanism for the HEPA filters. This unit uses auto clean on the pre filter which should in theory save wear and tear on the all important HEPA filter. Time will tell if there is an advantage to this system. Usually HEPA filters are more expensive than pre filters so it may very well save you money in the long run.
The extractor ships with a 36mm hose with multiple ends to fit most of various Milwaukee tools and dust attachments. It also seems to fit most other makes as well so there should be few compatibility issues. The sizes correspond to the 2 most popular sizes from Europe. There is a 36mm and a 27 mm as well as a drilling boot adapter. The hose is very soft and flexible black rubber with a slick red scuff guard. It is one of the best hoses I have seen from any company. Included in the box are the hose management clips which mount to the sides of the extractor. They are extremely effective at keeping that awesome hose wrapped up between uses and for transport.
The cord is 16 ga. And at XX feet is plenty long for my applications without being so long it gets in the way. There are two elastic cords to help keep it wrapped up and secure. The wire gauge is enough for its rated output.
I would prefer a 14 or even a 12 ga cord for higher overload capacity when using with power tools. Cord sizes seem to be all over the place in the extractor category. Most like this unit have a 16 ga. cord. Bosch and Fein use 14 ga. Festool and Hilti extractors have 12 ga cord's. I have never felt the Festool and Hilti Cord's get hot during extended use. Hilti has a max power tool rating of 11 amps. I did run the Milwaukee with a concrete saw rated at 15 amps and nothing tripped or burned up. I do not recommend this as it is taxing for both the tool and the extractor. The 16 Ga cord cannot pass enough current to supply 15 amps to the tool plus what the extractor needs. There would likely be a voltage drop and possible damage to the motor on the tool or the extractor or both. At the very least you will be dealing with tripped breakers.
The controls are very straightforward with a large dial to turn the unit on and off or for auto start with power tool activation. If you turn the dial a little farther it will also deactivate the auto clean function. This is a very welcome option when using filter bags. With the fleece bags the auto clean is unnecessary and just adds noise to your environment. There is a second small dial to control the speed of the motor. This is important for many reasons.
Sometimes you need to manage power for different tools that run off the built-in receptacle. A larger tool requires more power. Sometimes it is possible to turn the extractor down to allow more power for the tool. Some tools work better with less suction as well. Sanders don't really need a ton of suction for effective dust extraction . Too much can actually slow the sander down and cause swirl marks your work. It can also create more heat in your sanding pads. Heat causes them to break down faster. It also can melt paints and other finishes contributing to gumming up your abrasives. I usually turn it down to about 25%-30% Power when sanding.
When using larger tools like Miter saws, concrete saws and grinders it is normally best to run the extractor at max power to catch as much dust as possible. In these cases it is better to just run the tool on a separate circuit or use a cordless tool. As cordless technology progresses you will find more and more cordless tools that are up to the task.
As the vacuum runs you will hear a thumping noise every 10-15 seconds or so. It is a normal byproduct of the cleaning mechanism doing its job. The Milwaukee is quieter than most in the filter cleaning cycle. It is louder than the Makita and DeWalt but quieter than the Metabo and much quieter than the Bosch Hilti and Fein extractors. It pulses airflow back through the filter to knock caked dust out of the pleats to keep airflow as close to maximum as possible. This is one Key difference between these high-end dust extractors and regular shop vacs.
With a regular shop vac you will lose suction in a matter of a few minutes or even seconds with fine dust such as concrete or masonry. This translates into lost productivity while you stop working to take the vac apart for cleaning. It also means more exposure to the dust while cleaning the filter. Because of this many of us, myself included, sometimes chose to skip dust extraction altogether. No doubt this common situation contributed to the OSHA silica rulings that now govern our industry.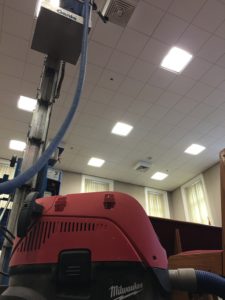 We found the Milwaukee to always maintains adequate suction power for everything we threw at it. We ground concrete floors, cut tile and backer board out on remodeling jobs, used it on Miter saws and tracksaws. While it is not the strongest extractor we use, it is more than capable of keeping up with a 5" concrete grinder or a rotary hammer. There was a little more loss of suction during auto clean than the Metabo and Makita extractors. I was somewhat surprised at first since the Makita comes from the same manufacturer. It does make sense though because the Makita cleans one filter while the other keeps working and the Metabo uses electromagnetic pulses to shake the filters while the airflow is maintained.
Whether or not this is important depends on what you are doing with the extractor. The change in pressure can allow a puff of dust to escape. Even worse the change in pressure will sometimes be enough to move the cutting tool off of the cut line. This is something we just get used to with auto clean vacs. While in the cycle I sometimes ease up on how much pressure I apply to the tool.
We feel this dust extractor is of very high quality and is probably one of the best products Milwaukee has brought out in the last few years. Now that we have had it a few months we are very happy with the purchase from Acme Tools. It is very reassuring to know if I would have had an issue with it they would have taken care of it very quickly and professionally.