Makita drops a new top dog framing blade
One of the big surprises we have had this year is the release of the Makita 7 1/4" Max efficiency carbide tipped framing blade. At first glance it looks almost identical to the earlier 24 tooth ultra coated framing blade but when looking closer you begin to notice the differences.
First Impression
First thing you will notice is it is lighter due to the thinner design at 0.057" thick making it one of the thinnest blades ever. The differences don't stop there. The actual carbide teeth are tapered for less friction in the cut. The shoulder of the tooth is narrower than the cutting edge thereby reducing contact with the material being cut.
We have used them both in the shop and on the job and been nothing but impressed time after time. We had initial fears that this blade may not be durable since it's so thin so we ran some extreme tests.
To determine just how efficient this blade is over existing blades we set up a continuous rip test with the XSR01Z which is the X2 36v rear handle saw. We got some culled lumber from Home Depot that no one would want to use for building because it was warped and cracked. It ended up being 2×12 Douglas fir. With the new max efficiency blade we were able to get over 300 feet of lineal 2x rips on one charge of 2-5.0 batteries.
This was over twice as many lineal feet of ripping as compared to the most popular framing blade on the market. The Diablo tracking point amped blade which is known for being efficient and durable even with nails and screw embedded wood. The results were so shocking to me I couldn't believe my eyes. I re-ran the test to make sure the results were accurate.
Many have been concerned about blade wander in long heavy cuts because of the extra thin kerf. I have found no such wandering even though I made cut after cut with no rest between other than the time it took to walk from one end to the other. The blade was warm but never warped.
For a second test I cut 10 framing nails to see how it would affect the blade and then re-ran the test. The results were just as astounding at the first test. I was able to rip 265′ in the same Douglas fir on one battery charge.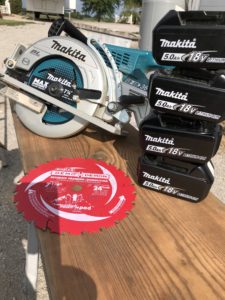 For a third and final test I wanted to see how many framing nails it could cut embedded in framing lumber before becoming too dull to cut. I feel this is important since I have experienced many blades becoming harder to cut with after hitting as little as one nail. We were astonished to see the blade pass through 190 framing nails! I think it would have cut many more if I had let the blade cool. It went through about 180 before the blade started to warp and wobble. I kept pushing hard anyway and all the teeth sheared off at once.
With an asking price of about $10 at Acme Tools I will definitely be using this blade for years to come. Let us know what you think in the comment section below.
Specs according to Makita
Up to 70% faster cutting compared to standard blades
Ultra-Thin 0.057″ kerf reduces the load put on the tool
High grade Tungsten carbide tips for durability
Special ATAFR (Alternate Top Alternate Face w/ Raker) carbide tips provide smoother and faster cuts
Blade coating provides reduced pitch build-up for smoother cuts
Specially engineered teeth assist to reduce the load put on the tool while cutting
Reduced swing width allow for smoother material removal with less cutting resistance
Top bevel angle designed with a sharp 23° tip which provides a smoother cut
Slimmer tip bottoms provide lower cutting resistance.
Tell us what you think below in your comments. Please subscribe to our page. Be sure to let us know what trade you are in and where you are located. Leave your instagram name, facebook name or email for future giveaways.