This post is sponsored by Home Depot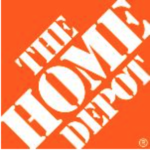 Competition is fierce between power tool companies to build the fastest most powerful tools in each class. Through the years Milwaukee has always been a contender. When the original Milwaukee Fuel line came out it was the undisputed champ in each category. The drill and the impact featured new brushless motors and came with more powerful 4.0 batteries. 
  Time marches on and competitors passed them in performance. Then gen 2 came out with 5.0 batteries and we were all impressed for a second time. They were slightly smaller and more powerful. In the staged tests at Milwaukee headquarters they handily outperformed the competition. But the competition came back with more powerful tools. Milwaukee never rests and so gen 3 came out swinging.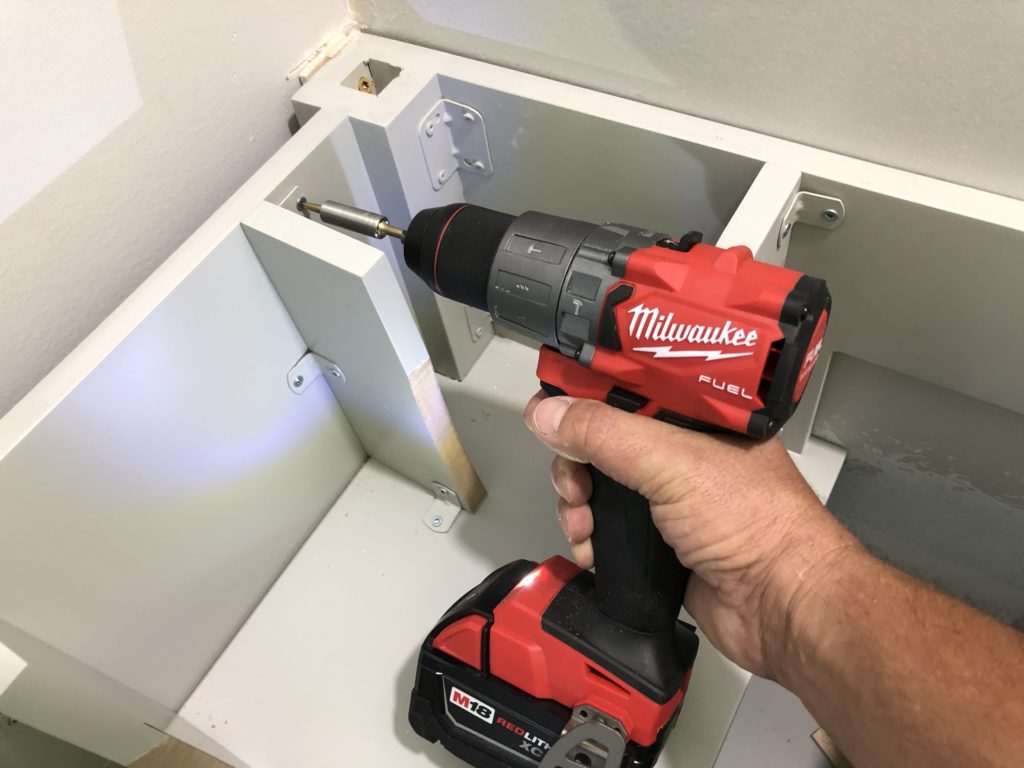 It is truly astounding how small this new drill is compared to anything else on the market. It is actually smaller than many of the "compact" drills and impact drivers sold today.  The drill is so small that sometimes if I'm not paying attention I pick it up instead of the impact driver.  
  After the size, the first thing you will notice is the chuck has been updated. This is a welcome improvement for many.  Many of us changed the old chucks out for heavier duty Rohm keyless chucks. Time will tell if the new one holds up better than the earlier generations. So far they seem to be holding well. 
  Another improvement is the side handle. It is longer and has a better clamping system than before. Don't throw this one away because you're going to need it. With bigger bits and a smaller tool you need the extra leverage this one provides to avoid injury.  It does have some electronic kick back control. It senses a spike in load and shuts the drill off.  This does help some but it still hurts if you aren't paying attention. 
  I really feel that ALL high power drills need a real active accelerometer based kickback control like Bosch and Hilti provide on their top Tools. They measure a change in rotation and kick off within as little as 1/8 -1/4 of a turn. This is safer and more effective at protecting your wrist and hand. Which may even save a life. I have personally seen people get knocked off a ladder with a drill bind up. As Tools get smaller and power levels increase this will continue to be more and more important in the industry. 
  To save space the double adjustment collar has been replaced with a single clutch/mode sleeve.  This may be great for you or you may hate it. All the torque settings are available until you select drill. One more click to the right and it goes into hammer drill mode. It is easy to turn the collar too far. You may find yourself in hammer mode when you don't want to be. The speed selector switch seems stiffer than in the previous generation but maybe that will loosen up with use. The clutch itself is electronic.  I think that's nice because there is a lot less noise.  Here is a video to demonstrate.
  With the size and power changes heat management is more of an issue. The drills seem to run hotter than before.  For intermittent use you may never notice it.  For extended drilling you are going to want gloves or time to let it cool off.  In my opinion the cooling vents are too small. They may keep foreign objects out but they no doubt contribute to the higher operating temps. 
  I don't normally do much runtime testing.  I know I will need to change the battery at some point during the day. It really doesn't matter to me if it's at 3:00 or 4:45 PM.  All the new brushless tools are more efficient than the tools from just a few years ago.  How a tool feels while I am using it and how it makes my workday better or worse is more important than the number of drywall screws it can drive on a charge. 
   That said I did want to see how it would do on a heavier load as well as to see how hot the drill and battery would get after a full discharge on a difficult task.  I like using self feed bits to put a good load on a drill.  We have many sizes so I thought I'd start with a 3 5/8" bit in 2×12 Southern Yellow Pine. 
  With a fully charged 5.0 we got 18 holes.  The drill was really hot so I grabbed my infrared temp sensor. It read 152.5 degrees and the battery was 107.9 degrees. As I mentioned earlier the drill is SO small and SO juiced up on power that there are now issues with heat management. This may be an extreme test but you can compare how hard you use a drill and figure out how it will do for you. For intermittent use it shouldn't be a problem. I certainly feel most people will use it intermittently. 
  For comparison, I ran the same test with a Dewalt DCD996 drill. We were able to make 24 holes with the 3 5/8″ self feed bit.  The temps were 118.1 degrees on the drill and 111.7 degrees on battery.   The Dewalt did 25% more work at a significantly lower temperature.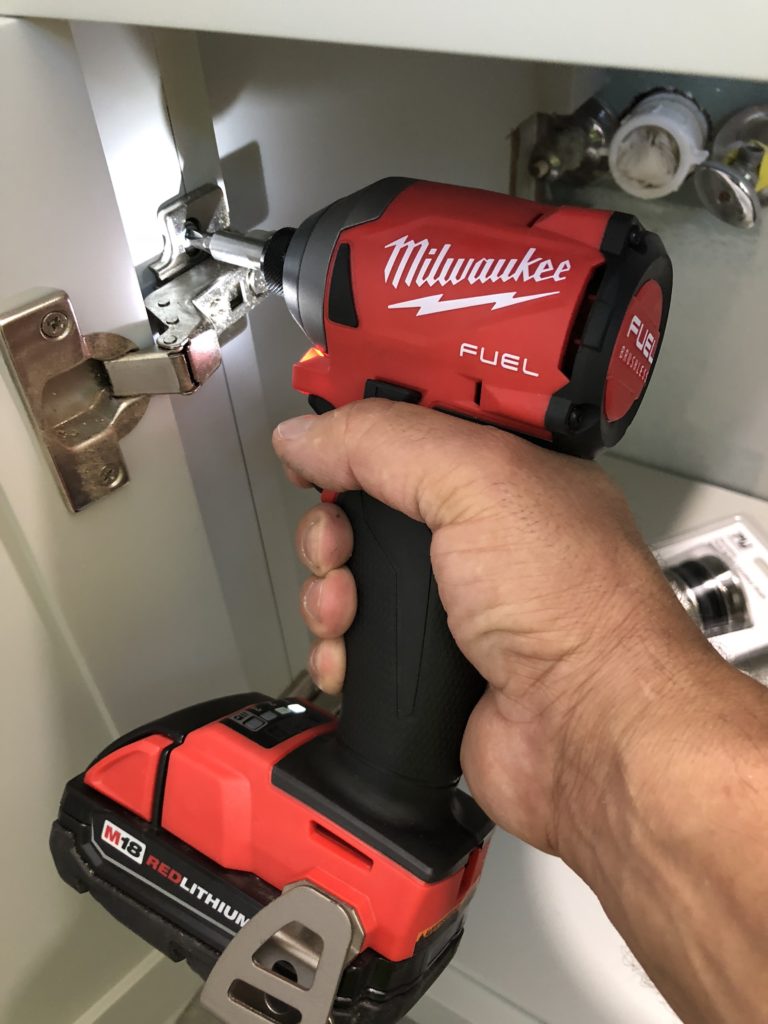 The impact driver is substantially smaller than any of its predecessors.   In fact it is one of the shortest impacts on the market.  The form factor makes it my favorite Milwaukee impact yet. I love compact tools if they can do the same job. It's an added bonus if they do the job better than before. 
  It has the expected Three speeds for different fastener types and sizes as well as a screw driving mode which gives full power when you need it but backs off under hammering so you don't break or strip screws.  People either seem to love these modes or hate them.  I, personally use the speed modes on smaller fasteners but I do not use screw driving modes. For me, I want full power and speed until I don't.  I get impatient when the tool slows down for too long.  With this impact the speed and power on high are extremely satisfying.  At 3800 rpm it is the fastest 18v driver now available in the US.
For comparison here are a few top drivers and their top speeds.
| | |
| --- | --- |
| | 3250 |
| Makita XDT12 | 3600 |
| Hitachi WH18DBDL2 | 2900 |
| | 2800 |
| | |
 Who needs this set? Electricians, plumbers, HVAC techs and carpenters. Pretty much anyone who wants the smallest most powerful drill and impact available. I can't think of a trade that wouldn't benefit from the superior power and compact size.   It's up to any task you would normally do with a drill and impact. This kit  has the added benefit of fitting in tighter spots for more efficient Use of space. These will definitely work in places the older models won't where they are too long.  Narrow cabinets and between joists and studs are just a couple that come to mind.  I am sure you will find more. 
  If you are looking for a great set check this Milwaukee Set at Home Depot
I acknowledge that The Home Depot is
partnering with me to participate in
the ProSpective 2018 Campaign. As a part of
the Program, I am receiving compensation in
the form of products and services, for the
purpose of promoting The Home Depot. All
expressed opinions and experiences are my
own words. My post complies with the Word Of
Mouth Marketing Association (WOMMA) Ethics
Code and applicable Federal Trade Commission