Makita Cordless Straight Finish Nailer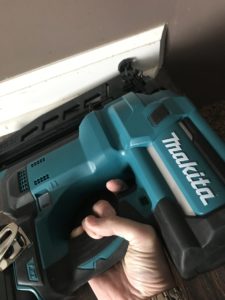 Makita has unquestionably the largest cordless platform on the market. If you have followed for more than a minute you have noticed we love it. It has served us very well for 16 years now! How is this even possible? LXT launched in 2005 as the first successful lithium ion power tool platform. I am happy to say that I still have and use some of those original tools from 2005. I have replaced most of them with newer more powerful brushless models but I kept a drill and impact driver and they are still going strong. They have always been and continue to be one of the most important power tool companies for the remodeling and restoration work we do.
Makita professional and industrial power tools are known around the world for their durability and dependable performance on the job. I live in the Midwest where Makita Tools aren't quite as popular as they are closer to the East or West coasts.
We have run across more than a few people who feel when we receive a tool for review it's automatically going to get a glowing positive review. That is far from the truth. I have quite a few sponsored reviews here and on Instagram where I clearly state I would not buy the tool. Sometimes whether I would or not depends on application. ( UPDATE: In this case, after using it for a good while I have decided I would not buy this tool.)
We've been using the Makita 18V LXT Finish Nailer for a while now. We have primarily used 2" nails on primed 3 1/4" pine and poplar base and casing as well 1×6 rough sawn western red cedar.
With the 2.0 slim battery, it had enough power for these types of base and casing. I did have a few nails that didn't set all the way but only when the battery level was at 1/2 charge or less while nailing at an angle. On straight nailing and full battery they were always countersunk with a nice tight hole. No cordless nailer yet has enough power to sink a full 2 1/2″ nail in solid hardwood. I don't really know of a situation that would call for it since most trim is either soft or hardwood nailing through drywall into SPF framing lumber. If we are installing hardwood casing on hardwood door jambs we never use 2 1/2″ nails. The extra length is unnecessary and adds more chance of a blowout on the work. This Makita has enough power to sink 1 1/2″- 1 3/4″ nails which should be more than enough for hardwood casing on a solid hardwood jamb.
I was really hoping this new Makita would be something that would easily beat the other guns on the market. I would choose this over the Milwaukee Fuel and Senco Fusion nailers. If it proves durable I may even prefer it over the DeWalt. Time will tell. My top choice by far is Paslode. They are not cordless only. They run on fuel cells and a small battery. The cost can add up if you shoot a lot of nails but the nailers are the closest to pneumatic of any cordless nailers. I was hoping the Makita would be close as well. Unfortunately, it is not.
This gun has a very slow nailing cycle. After 28 years in the trades, when I pull the trigger I expect the shot to be quick. My experience makes my hand and arm muscles tense up for a split second when firing any gun and then they let off just as quickly. When I fire this Makita I am already letting off when the gun is still half way through the wind up cycle. It's really odd to me. I can't get used to it. I am sorry to say but I feel it is too slow for a professional user. It is a deal breaker for me. I wouldn't buy it to use on my finish work.
I can't say if this gun is for you or not because everyone's situation is different. Since this guns cycle is slow I needed to adjust my method in order to make it work. I have to consciously remember to hold this one tight to the work longer to make sure it is done before I relax. I know it sounds simple but muscle memory is hard to change without conscious effort
To be fair, It does seem to have enough power for most trim when holding it perpendicular to the work. On one remodel I noticed a few heads that were slightly proud of the surface when I angled downward for the bottom nail on some baseboard. It does better when I take the bumper guard off but I don't feel like it is the best practice because I don't like dents in my work. The customer will probably never see them but I sleep better at night when everything is perfect. In the guns defense the battery was on two bars. When I put a full battery on the heads were driven past the surface. A 5.0 gives it even more power. More to come. I'm certainly not done.
This gun fills a need for those who are firmly on the LXT platform and don't want a Paslode because of the gas. It seems good for small jobs and punch list work. For a whole day of trim, I am still firmly in the Paslode camp
but that's a post for another day.
How many of you are using this gun? What are your thoughts? One thing to keep in mind is they do offer a 30 day satisfaction guarantee. If you try one and don't like it you can definitely
get your money back.

Makita 18-Volt LXT Lithium-Ion 16-Gauge Cordless 2-1/2 in. Straight Finish Nailer
Trigger lock button for operator convenience

Tool-less nose design is easy to clear for fast nail extraction

2-mode selector switch for control over nailing operation
18-VOLT 2.0AH LXT BATTERY AND CHARGER STARTER PACK
18V LXT Compact battery reaches a full charge in 25 minutes or less

Integrated LED battery charge level indicator allows user to monitor battery charge

STAR Protection Computer Controls protect against overloading, over-discharging and overheating
I may receive compensation in
the form of commission, for the
purpose of promoting tools. All
expressed opinions and experiences are my
own words. My post complies with the Word Of
Mouth Marketing Association (WOMMA) Ethics
Code and applicable Federal Trade Commission