When we hear a tool brand we usually associate it with a type or types of tools that they're known for. Of course, everyone is going to have their own opinions on this, but for me, when I hear the brand Dewalt I immediately think of their many years of being a solid company that puts out greats saws of all kinds. Some of my earliest memories of helping my dad as a kid on a job site was that I couldn't wait to learn to use the big black and yellow miter saw. Nonetheless, Dewalt has come a long way since I was a kid and has come out with even bigger and better tools.
Use as a Flooring Contractor
I am a flooring contractor that installs mostly wood and tile, so my needs when it comes to a table saw are going to be different from those of you with large shops that require bigger saws. So today, I'm going to briefly tell you my thoughts from my perspective of the Dewalt DW745 job site table saw.
Our uses for this saw vary from making simple rips with hardwood floor planks, cutting plywood for subfloor repair, as well as cutting waterproofing foam board for our shower installs (thanks Toolpig for the idea). When I first started out on my own I bought a used Pro Tech table saw, I've also used an older model Makita, as well as a Skilsaw. The first thing wrong with these saws was the cheap thin plastic that was used to build the base. I'm sure everyone is guilty of putting their table saw in the bed of their truck and not securing it. I am guilty as well. The result for me was busted corners on the base of a few saws, and one was really bad. Simply not an issue with this Dewalt DW745. The plastic body of the saw is surrounded by a steel frame that protects it as well as rubber feet keep it from sliding around. The rubber feet also make it sit nicely onto the stand that comes with it. The stand can be permanently mounted or you can just set it on with no worries of it vibrating off or being pushed off. A very good design in my opinion.
One of my biggest gripes of past table saws that I've used was the cheap and inaccurate fences. The Dewalt fence however is just the opposite of a gripe, it's a dream to use if you haven't used one yet. This saw features a rack and pinion fence that adjusts and locks with a simple turn knob and lock handle and is dead accurate. It will rip up to 20″ at maximum depth of 3 1/8″.
Another gripe of mine of other saws is the time it takes to raise the blade. I remember on my first saw the turn handle would always come unscrewed and it seemed like it took 10 minutes just to raise and lower the blade. Again, this is not the case with the Dewalt. It has a good size turning knob and locking handle that operate smoothly and also raises and lowers the blade at a good pace.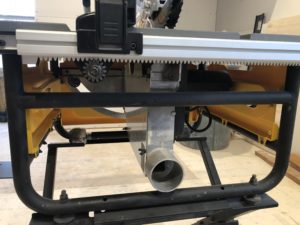 This saw does offer a dust collection port which helps speed clean up time down when the job is over. We usually utilize this most when we're installing laminate floors or when we're cutting inside which is nice for wintertime use.
Think out of the box
I mentioned earlier that we use this saw to cut waterproofing foam board for showers. If you've ever used some of these products you know that they do cut easy with just a utility knife, but those cuts will never be perfect. Also cutting the thicker 1 1/2″ or 2″ foam board can be even more difficult to have clean cuts especially if the cut is beveled. We actually got the idea from Paul (Toolpig himself) of using a table saw to make these cuts. Anytime we do a shower now the Dewalt comes with us.
Honestly, I don't have single negative thing to say about this saw. It works great, smooth operating, accurate cuts, portable. If you're in the market for a job site saw I don't know why you would pick anything different, unless you just want a cordless one. There again Dewalt has you covered. For Toolpig's earlier review check it out here.
15 Amp motor produces up to 3850 RPM to power through tough jobs
10 in. blade for fast, accurate rip cuts
Rip fence with 12 in. left and 20 in. right rip capacity for ripping wider materials
Rack and pinion fence stays parallel to the blade for accuracy
Adjustable rear feet designed to level the saw on uneven work surfaces
Lightweight design for easy transporting on and off the job
Maximum cut depth of 2-1/4 in. at 45° and 3-1/8 in. at 90° for a variety of useful cuts
Dust port allows for 2-1/2 in. vacuum hook up and minimizes cleanup
Find all of the DeWalt table saws at ACME TOOLS
We may receive a small commission if you click the links to our partners.All
expressed opinions and experiences are my
own words. My post complies with the Word Of
Mouth Marketing Association (WOMMA) Ethics
Code and applicable Federal Trade Commission